Geneq iSXBlue II+ GPS Receiver
The iSXBlue II+ GPS is a palm-sized receiver that delivers real-time, high accuracy performance using GPS satellites and free SBAS corrections for your iPad/iPhone.
Features
100% iPad & iPhone compatible Bluetooth
Sub-60cm, 2dRMS real-time performance
Modular, multi-port interface (Bluetooth, USB, RS-232)
Fondriest Exclusives
Free ground shipping
Expedited repair and warranty service
Lifetime technical support
The iSXBlue II+ GPS is a compact, real-time receiver that delivers true sub-meter performance every second to your application. Its integrated lightweight design makes it the ideal choice for a variety of industry applications including GIS, Forestry, Mining, Utilities, Agriculture, Survey and Environmental, at a price you can afford.

Go Real-time, All the Time!
The iSXBlue II+ GPS uses innovative technology that delivers sub-meter accuracy in real-time, all the time. There is no need for post-processing or a beacon receiver when WAAS, EGNOS, MSAS, or GAGAN are available. Even in environments where GPS reception is limited, the iSXBlue II+ is designed to keep working and deliver the DGPS accuracy you need all day long.

Accuracy and Productivity in One
The iSXBlue II+ GPS takes real-time accuracy a step further. Its accurate code phase measurements and leading edge multipath mitigation delivers sub-60 cm (2dRMS, 95% condence) positioning. With its superior tracking performance and innovative real-time positioning, that means no downtime even in harshest conditions. The iSXBlue II+ maximizes your productivity by working directly within your GIS framework such as Esri's Collector for ArcGis, ArcGis for iOS, TerraGo, AmigoCloud, iGeoTrack, ICMT Gis, Fulcrum, etc.

A Long Term Solution
Add a field computer that suits your application, an off-the-shelf software of your choice, and the iSXBlue II+ GPS becomes the heart of a modular solution you can grow with. In today's rapidly evolving technologies, its unique multi-port interface (fully independent Bluetooth, USB, RS-232 ports) helps to protect your long term investment by always allowing the use of up-to-date computer hardware, operating system and software.
(1) SXBlue II+ GPS with battery
(1) GPS antenna
(1) Antenna cable 0.3m SMAR(M)/BNC(F)
(1) Antenna cable 1m BNC(M)/SMA(M)
(1) Antenna cable 1.5m SMA(M)/SMAR(M)
(1) Charger - LI-ION 8.4 V
(1) Serial cable, RS-232
(1) USB cable
(1) Soft carrying case, nylon
(1) Modified hat for antenna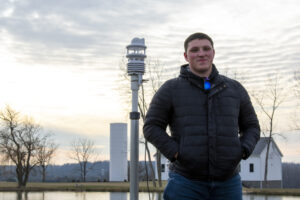 The Lufft WS800 Multi-Parameter Weather Station measures a full suite of atmospheric parameters that provides all-encompassing data on the local environment, including a one-of-a-kind lightning detector. This compact, cost-effective sensor simultaneously measures air temperature, humidity, pressure, precipitation, solar radiation, lightning, and wind with an integrated electronic compass. An internal fan and heater reduce the effects of external influences for accurate measurements during long-term deployments. The sensor can be easily mounted on a 2-inch diameter pipe above any local obstructions with the included bracket mount, U-bolts, and 10-meter cable. 
 
 Settings for the unit can be adjusted using the latest UMB-ConfigTool.
Read More