Geneq SXblue Platinum GNSS Receiver
The Geneq SXblue Platinum is a wide area DGPS device that uses a network of reference stations to communicate GPS correction data for accurate reporting via a geostationary L-band communication satellite.
Features
GPS, GLONASS, Galileo, BeiDou, QZSS and SBAS
Android, iOS and Windows compatible
Triple-frequency L1-L2-L5 with 1cm RTK accuracy
Fondriest Exclusives
Free ground shipping
Expedited repair and warranty service
Lifetime technical support
Overview
Powered by its 394 channels, the Geneq SXblue Platinum uses all-in-view constellations with triple frequency and offers the ability to use a global or local coverage of corrections (SBAS, L-Band and RTK). The internal, rechargeable, field-replaceable Li-Ion battery has onboard LEDs to access battery life information easily.

Upgradable
With the scalable SXblue Platinum Basic, the user can activate at anytime any frequency or constellation after its initial purchase. The receiver is also field upgradable which means that options can be activated remotely.
Streaming Potential
Atlas delivers its correction signals via L-band, or it can stream data over the internet (NTRIP) at accuracies ranging from meter to subdecimeters levels, ensuring the best available vertical and horizontal accuracy.

Highly Compatible
Examples of the many compatible softwares are ESRI Collector, ArcPad, Fulcrum, TerraGo Edge, MicroSurvey FieldGenius, etc. iSXBlue RTN, a free iOS application for NTRIP/DIP configuration, is available on the App Store.
(1) SXblue Platinum GNSS with battery
(1) Multi-GNSS antenna (L1, L2, L5, L-BAND)
(1) Antenna cable 10cm SMAR(M)/BNC(F)
(1) Antenna cable 15cm SMAR(M)/BNC(M)
(1) Charger - LI-ION 8.4 V
(1) Serial cable, RS-232
(1) USB cable
(1) Pole clamp with slot
(1) L shaped bracket for SXblue
(1) Antenna mounting plate
(1) Hard shell case for SXblue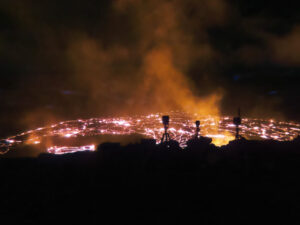 The eight main Hawaiian Islands are made up of 15 volcanoes, six of which are active as of 2023 . Many locals live on or near an active volcano, making the monitoring and understanding of volcanic activity a core issue of public safety on the islands. Organizations like the Hawaiian Volcano Observatory (HVO) have spent decades monitoring the islands' volcanoes to protect the public, develop a deeper understanding of the islands' volcanos and forecast eruptions whenever possible. 
 
Even those who live away from edifices like Mauna Loa often have connections to the people living near the volcano.
Read More