Hach Nitrate (Nitrogen) Color Disc Kit
Nitrate (nitrogen) test kit, NI-14, 0-1, 1-10 mg/L, 50 tests
Features
Continuous-gradient color wheel for fast, accurate comparisons
Accurate to +/-10% or +/- the smallest increment, subject to individual color perception
Kits use a blank as a reference in color comparison, compensating for color in the sample
Stock
Drop Ships From

Manufacturer
Fondriest Exclusives
Expedited repair and warranty service
Lifetime technical support
Hach's unique color disc kits feature a continuous-gradient color wheel for fast, accurate comparisons. The continuous color provides higher levels of accuracy. Kits also use a blank as a reference in color comparison, compensating for color in the sample.

Simply react the sample, then insert the blank and the sample into the holder. Rotate the color wheel to obtain a color match between the blank and the reacted sample. Accuracy for color disc kits is typically +/- 10% or +/- the smallest increment, subject to individual color perception.
(1) Color Discs
(1) Color Comparator Box
(1) Tubes
(1) Reagents
(1) Instruction Sheet
(1) Carrying Case
Questions & Answers
What method does this test use?
This test uses the cadmium reduction method.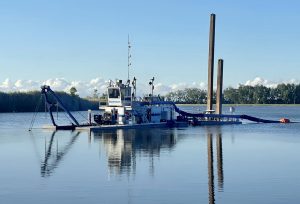 Though dredging is often painted in a negative light, dredging initiatives and projects are often conducted to improve environments, begin recovery periods for water beds contaminated with toxins, and reinvigorate ecological systems and habitats. Many of the technicians and engineers who plan and execute dredging projects are dedicated to balancing the economic benefits of dredging with protecting the environment. 
 
 Sevenson Environmental Services Inc. provides sediment remediation as one of many key services offered to help restore natural environments. Steven Shaw spent more than a decade working as an engineer on various dredging projects before finding his way to Sevenson eight years ago.
Read More