Hach Denitrifying Bacteria BART Test
BART biodetectors are excellent diagnostic tools to help identify the presence and activity of various bacteria.
Features
Simple yet effective method for monitoring the population size and/or activity of specific groups of bacteria
Easy to use, requiring no elaborate or costly equipment and no specialized training
Effective and affordable tests are easy to interpret and can be performed at room temperature in virtually any environment
Usually ships in 3-5 days
Image
Part#
Product Description
Price
Stock
Order
2619309
BART Test for Denitrifying Bacteria, pack of 9

Usually ships in 3-5 days
Denitrifying bacteria indicate the decomposition of waste organic nitrogenous materials. These bacteria reduce nitrate to nitrite and some continue nitrification to gaseous nitrogen (complete denitrification). In water, aggressive denitrifiers can indicate high concentrations of nitrates, and that the sample is probably anaerobic and relatively rich in organic matter. The presence of denitrifying bacteria can indicate that the water has been polluted by nitrogen-rich organics from sources such as compromised septic tanks, sewage systems, industrial and hazardous waste sites. If highly aggressive bacteria are detected, the water should be tested for the presence of coliform bacteria.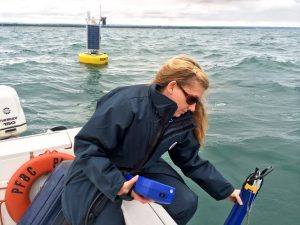 Since its population bottomed out, the federally-endangered Piping Plover in the Great Lakes has made a comeback for the ages. 
 
 A population that once measured approximately 17 pairs and rebounded, hitting 76 pairs in 2017. The same year that count was made, the plovers had also returned to Gull Point, a nesting location that hadn't been used in more than 60 years. 
 
 In an effort to understand some of the conditions that have allowed this species to return to its habitat, researchers have directed their attention toward a curious instrument for help. 
 
 A buoy that floats off the coast of Presque Isle State Park , near where Gull Point is located.
Read More