Hach Slime-Forming Bacteria BART Test
BART biodetectors are excellent diagnostic tools to help identify the presence of process disruptors, such as bacteria creating slime layers and limiting disinfection.
Features
Simple yet effective method for monitoring the population size and/or activity of specific groups of bacteria
Easy to use, requiring no elaborate or costly equipment and no specialized training
Effective and affordable tests are easy to interpret and can be performed at room temperature in virtually any environment
Usually ships in 3-5 days
Image
Part#
Product Description
Price
Stock
Order
2432509
BART Test for Slime-Forming Bacteria, pack of 9

Usually ships in 3-5 days
2432509
BART Test for Slime-Forming Bacteria, pack of 9
Usually ships in 3-5 days
The SLYM-BARTs can be used as a P/A test capable of indicating to some extent the possible population size and the types of slime-forming organisms present in the water sample. Slime-forming bacteria are able to produce copious amounts of slime without necessarily having to use any iron. Iron bacteria also produce slime, but usually it is thinner and involves the accumulation of various forms of iron.


Slime-forming bacteria generally produce the thickest slime formations under aerobic (oxidative) conditions, which develop around the floating ball. Growth may be recognized as a cloudy or gel-like growth, which can be localized or occur throughout the sample. These growths are usually white, grey, yellow, or beige in color and can darken over time.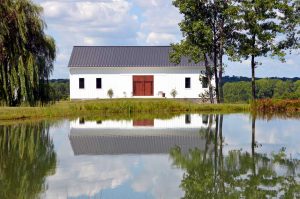 A few years after Ohio became a state in 1803, George Harner arrived in Greene County with a land deed signed by then-President Thomas Jefferson and Secretary of State James Madison. The homestead was largely old forest and wetlands and also included a fen-fed stream—the Beaver Creek. 
 
 As was the case with much of the Ohio Territory, the forests eventually gave way to land clearing and grain farming. Harner's descendants, including his son John and John's wife, Sarah Koogler, continued to work the rich soil for many years to follow. 
 
 Much of the original property and surrounding land has fallen prey to urban sprawl.
Read More