Hach pH Platinum Series Flat-End Electrode
Hach pH platinum series flat-end electrode with (2) electrolyte cartridges and manual
Features
Flat glass membrane that hydrates easily, and has durability at high temperatures
Double junction reference half-cell with a free-flowing outer reference junction
Design ideal for use with samples containing sulfide or other substances
Usually ships in 3-5 days
Image
Part#
Product Description
Price
Stock
Order
5191500
pH platinum series flat-end electrode with (2) electrolyte cartridges and manual

Usually ships in 3-5 days
Image
Part#
Product Description
Price
Stock
Order
2546902
Potassium chloride reference electrolyte gel cartridges, 2 pack

Usually ships in 3-5 days

2657364
pH electrode storage powder pillows, 25mL sample, 20 tests

Usually ships in 3-5 days

5189900
Low ionic strength sample chamber kit

Usually ships in 3-5 days

5192900
Soaker bottle for pH electrode

Usually ships in 3-5 days
The Hach pH Platinum Series Flat-End Electrode, features improved reference junction designs, provide fast, stable response and accurate measurements. Conventional combination electrodes use porous
frits as the junction between the reference half-cell and the sample. The porous material rapidly clogs with precipitated silver chloride, causing unstable junction potentials. The Flat-End pH Electrode uses a double junction reference half-cell with a free-flowing outer reference junction. The free-flowing junction provides nearly constant junction potential, greater accuracy and reliability than conventional porous junction electrodes, and is ideal for both routine and demanding applications.

The Flat-End pH Electrode contains a silver/silver chloride element in an inner chamber that contacts the electrolyte solution at an inner junction. Electrolyte flows from the free-flowing outer
junction at the electrode tip. This design makes it ideal for use with samples containing sulfide or other substances.

This Hach electrode uses a flat glass membrane that can be used at temperatures of 0 to 45 C, hydrates easily, and has durability at high temperatures. A moderate sodium error occurs at pH levels greater than 12.
pH Range: 0-13 pH units
Isopotential Point: 7.0 +/-0.5 pH (0 +/-29 mV)
Electrode Resistance: 450 Mohms at 25 C (new)
Slope: -58 +/-3 mV at 25 C
Temp Range: 0 to 45 C (routine use), 45 to 80 C (occasional use), -40 to 50 C (storage)
Reference Element: Silver/Silver Chloride Double Junction
Tip diameter: 12.7 mm (0.50 inches)
Tip length: 104 mm (4.10 inches)
Total length: 229 mm (9.0 inches)
Cable Length: 91.5 cm (36 inches)
Connector Type: BNC Connector
(1) Hach pH platinum series flat-end electrode
(2) electrolyte cartridges
(1) Operations manual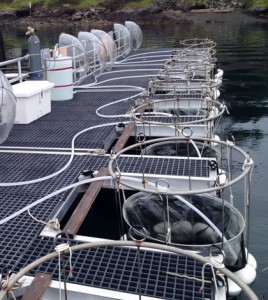 With oceans becoming more acidic worldwide, scientists are getting creative in designing experiments to study them. For example, one group at the University of Washington is using giant plastic bags to study ocean acidification. 
 Each bag holds about 3,000 liters of seawater and sits in a cylinder-like cage for stability. The group at UW, made up of professors and students, is controlling carbon dioxide levels in the bags over a nearly three-week period, during which they are looking at the effects of increased acidity on organisms living near the San Juan Islands. 
 "These mesocosms are a way to do a traditional experiment you might do in a lab or classroom," said Jim Murray, professor of oceanography at the University of Washington.
Read More