Hach Sample Transport Kit
The Hach Sample Transport Kit can store a large number of field samples, while keeping them cool and leak-free.
Features
Can easily keep all field samples cold throughout transport
Includes a plastic-coated rack that has fifteen different compartments for sampling bag storage
Each of the 100 Whirl-Pak sampling bags are 177mL and contain dechlorinating agent
Usually ships in 3-5 days
Image
Part#
Product Description
Price
Stock
Order
2568700
Sample transport kit

Usually ships in 3-5 days
The Hach sample transport kit includes everything needed to collect field samples. In addition, it can keep the samples cold while they are being transported. A Rubbermaid Cooler, a plastic-coated rack with 15 compartments, a leak-proof refrigerant pack, and 100 Whirl-Pak sampling bags are included.
Dimensions: 13" x 9.5" x 8.75"
(1) Rubbermaid Cooler
(1) Plastic-coated rack
(100) 177mL Whirl-Pak sampling bags
(1) Leak-proof refrigerant pack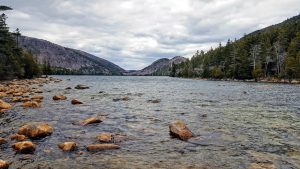 Formed by a glacier, Jordan Pond is among Maine's clearest, most beautiful bodies of water. It's also a critical freshwater resource, and watchful eyes are protecting it. 
 
 EM spoke with Dr. Rachel Fowler, Friends of Acadia's aquatic scientist, about her work monitoring Jordan Pond. A postdoctoral research scientist at the University of Maine, she is a member of a partnership among the National Park Service, the University of Maine Climate Change Institute, and Friends of Acadia that began deploying the Jordan Pond buoy in 2013. Canon provided the initial support for the project. 
 
 Friends of Acadia is a nonprofit organization that supports different projects in the park.
Read More