Heron dipperLog showNtell Handheld Display
The dipperLog showNtell Handheld Display is a convenient tool to get on-the-spot real-time readings without taking a mobile computer to the site.
Features
Does not deprive the logger of any power
Plugs in directly to a well head logger read out
Provides a continuous record of water level and temperature
Usually ships in 3-5 days
Image
Part#
Product Description
Price
Stock
Order
5018
showNtell handheld display

Usually ships in 3-5 days
The Heron showNtell Handheld Display provides an instant indication of water height and temperature. Simply remove the cap from the well head logger read out and plug the showNtell for immediate results. The showNtell is independently powered by a 9V battery and therefore does not consume the dipperLog's battery supply while collecting readings.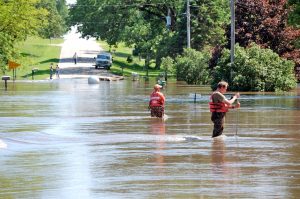 Some of the most interesting data in the world of river and stream monitoring come at times when it's practically impossible to capture—during extreme weather events, for example. Timing alone makes capturing unusual events a challenge, and these kinds of issues have prompted researchers to use classic monitoring data along with new technologies to develop and improve hydraulic modeling for estimating river flows. 
 
 Steven Lyon , a Conservation Scientist with The Nature Conservancy, Professor at Stockholm University and Associate Professor at The Ohio State University, spoke with EM about the research .
Read More