Heron Sm.OIL Oil/Water Interface Meters
The Sm.OIL is measures the thickness of DNAPL and LNAPL layers as thin as 1mm, and comes with a 60' (English) or 20m (metric) tape.
Features
Corrosion-resistant stainless steel fittings and water & dust proof encapsulated electronics
Powered by easily changeable 9V battery
Includes convenient carrying bag
Usually ships in 3-5 days
Image
Part#
Product Description
Price
Stock
Order
3014
Sm.OIL oil/water interface meter with English increments, 60'

Usually ships in 3-5 days

3015
Sm.OIL oil/water interface meter with metric increments, 20m

Usually ships in 3-5 days
Used by refineries, oil spill and remediation companies, landfills, and site clean-up projects, the Sm.OIL is a small, portable oil/water interface meter that will accurately measure the thickness of LNAPL layers floating on the water table as thin as 1mm. It will also detect and measure sinking layers of DNAPL.

With its slim 5/8" probe and 60' tape, the Sm.OIL is ideal for shallow wells or high water tables. Certified intrinsically safe, the meter is suitable for use in storage tanks and areas where explosive gases may be present. The stainless steel probe and a Kynar jacketed, NTS certified tape will withstand attack by hydrocarbons, solvents and other contaminants. The meter is backed by a 3-year limited warranty, and the replaceable probe comes with a 1-year warranty.
Weight: 4.25 lb (1.9 kilo)
Tape Length: 60 ft (20m)
Dimensions: 8 in x 8in x 10in (10cm x 10cm x 26cm)
Tape Graduation: 1/100ft (1mm)
Battery: Single 9V
(1) Interface meter
(1) Carrying bag
(1) Cleaning kit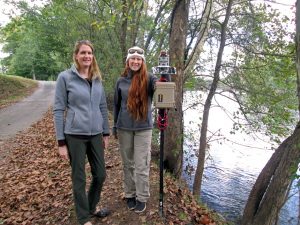 For most humans, mayflies seem like a nuisance, hovering over the waterways as we try to enjoy them. However, for anyone hoping to monitor the health of watersheds, mayflies are important aquatic species—and now, a digital version of the mayfly is helping some scientists keep an eye on the water. Research scientist Dr. Scott Ensign , who serves as Assistant Director of the Stroud Water Research Center , spoke to EM about how the digital mayfly technology developed. 
 
 " Shannon Hicks is the engineer who started developing the Mayfly six or seven years ago," explains Dr. Ensign.
Read More