In-Situ TROLL Cable Extender
The In-Situ TROLL Cable Extender is a durable titanium adapter that joins two lengths of RuggedCable to increase the operational range of the TROLL instruments.
Features
Twist-Lock connectors "lock" tight for 100% reliability in the field
Includes built-in vent tube for extending vented cable assemblies
Connect multiple Twist-Lock cable assemblies together for maximum flexibility
Image
Part#
Product Description
Price
Stock
Order
0051490
TROLL cable extender

In Stock
In-Situ TROLL Cable Extender is a titanium adapter for joining two lengths of deployment cable. Join two stretches of cable without signal loss. The TROLL cable extender seals the cables and provides a weight bearing connection. An adjustable Kellems grip is included with each cable for precise installation.
Wetted Materials: Titanium, Viton
Size: 9.8cm (3.8") long; 18.3mm (0.72") OD
(1) In-Situ TROLL Cable Extender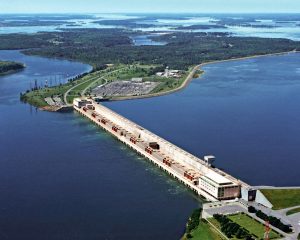 Where and how to monitor water quality is always a challenge, particularly in complex aquatic ecosystems. The new REASON Project from a team at Clarkson University is working to demonstrate the utility of using water quality instrumentation in dams on major rivers in the Great Lakes system. 
 
 Clarkson University Professor of Biology Michael Twiss spoke with EM about the new approach their team is taking at the Moses-Saunders Power Dam across the St. Lawrence River and the benefits the development of smart infrastructure such as this might offer. 
 
 "The upper St. Lawrence River is defined as that which leaves Lake Ontario and is just upstream from the city of Montreal," explains Dr. Twiss.
Read More