Mustang Inflatable PFD Re-Arm Kit f/MD2051, MD2053, MD2981, MD2983, MD2951, MD2953, MD3051, MD3052, MD3053, MD3054
Image
Part#
Product Description
Price
Stock
Order
MA7114
MUSTANG RE-ARM KIT FOR MD2087, MD3083, MD3084, MD3087, MD2085

In Stock
Inflatable PFD Re-Arm Kit for MD2051, MD2053, MD2981, MD2983, MD2951, MD2953, MD3051, MD3052, MD3053, MD3054, MD3071, MD3075, MD3081, MD3082, MD3083, MD3084, MD3085, MD3087, MD2085 and MD2087, MD2085 & MD2087
The 1F Automatic and 3F Manual Inflatable PFD Re-Arm Kit (Type E), contains everything necessary to re-arm your inflatable after deployment.
The automatic inflator bobbin on all automatic PFDs should be replaced on a regular basis.
Use only Mustang Survival re-arm kits. Use of other re-arm kits may result in improper operation or failure to operate and will void the product's warranty.
Contains:
ne 33gram CO2 cylinder

One bobbin (use only with automatic inflatables)

One re-arming instruction manual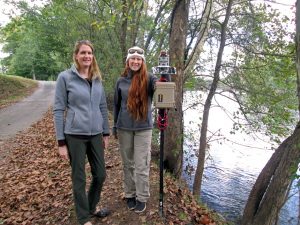 For most humans, mayflies seem like a nuisance, hovering over the waterways as we try to enjoy them. However, for anyone hoping to monitor the health of watersheds, mayflies are important aquatic species—and now, a digital version of the mayfly is helping some scientists keep an eye on the water. Research scientist Dr. Scott Ensign , who serves as Assistant Director of the Stroud Water Research Center , spoke to EM about how the digital mayfly technology developed. 
 
 " Shannon Hicks is the engineer who started developing the Mayfly six or seven years ago," explains Dr. Ensign.
Read More