Mustang MD0451 Automatic Inflatable Vest
The Auto Hydrostatic Inflatable Vest with LIFT is lightweight with a high degree of mobility.
Features
Automatic Inflator is maintenance free for 5 years
Delivers up to 9" of freeboard - highest elevation out of water ever seen in a PFD
40 lb buoyancy - more than twice the buoyancy of a traditional PFDs
Usually ships in 1-2 weeks
Image
Part#
Product Description
Price
Stock
Order
MD0451
Automatic inflatable vest PFD w/LIFT & HT inflator (no harness attachment points), red/black

Usually ships in 1-2 weeks
Incorporating new and improved hydrostatic inflation technology, and a durable and easy-to-use SecureZip PFD closure system, the Auto Hydrostatic Inflatable Vest with LIFT is a lightweight inflatable PFD designed with a shorter length and a low and flexible profile to ensure total mobility during even the most rigorous activities.
Made primarily for performance sailors and power boaters, and security and rescue professionals, the Vest is also an excellent choice for individuals who desire added protection.
Engineered with the revolutionary LIFT PFD design, the Vest delivers a high level of safety for users in variable wind and wave conditions by elevating the mouth out of the water by up to 9 inches (23cm). Known as freeboard, this increase in elevation has been shown to reduce underwater mouth immersions by 80%, increasing the chance of survival in accidental immersion situations.
40 lb buoyancy when inflated
LIFT provides up to 9" of freeboard - the highest elevation out of water ever seen in a PFD - for extra safety in severe weather. This reduces mouth immersions and increases visibility to rescue crews.
Auto hydrostatic inflator is maintenance free for 5 years unless inflated
When inflated, LIFT bladder has stabilizing wings on sides and behind the neck to provide support in rough waters
Safety Inspection Window - window allows user to easily inspect inflator status: green indicates inflator is ready for use
SecureZIP closure withstands rigorous activity and is easy to repack
Comfortable neoprene collar
Mesh back allows for good air flow to keep wearer cool
Durable 420-Denier nylon
Cylinder is contained inside bladder to protect against corrosion
Backup oral inflation tube
Strobe light holder, safety whistle and SOLAS reflective tape
D-ring
USCG Approved Type V PFD for use when worn on uninspected commercial vessels less than 40 ft. in length not carrying passengers for hire as a substitute for a Type II or III PFD when used in accordance with the owner's manual
40 lb buoyancy when inflated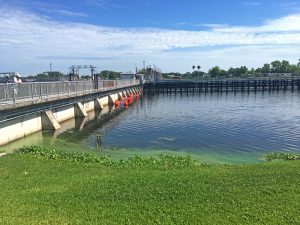 As we hear more and more about algal blooms of different kinds across the United States, teams of scientists are working hard to ensure that they don't become our new normal. One project in Florida is taking a multi-disciplinary approach to the problem—including genetic analysis. 
 
 The team's work is part of a full-court press in Florida recently, making a serious push to understand what is triggering more frequent blooms. Jose Lopez, Ph.D. , of Nova Southeastern University , the primary investigator on the genetic analysis portion of the project, spoke to EM about the project and his work on it. 
 
 "This is a very good project," explains Dr. Lopez. "We're excited about it, and it's a lesson in persistence." 
 
 Dr.
Read More