Mustang OC8000HR Ocean Commander Immersion Suit
The OC8000 HR Ocean Commander immersion suit features a built-in safety harness for rescue applications.
Features
Hood offers a water-tight fit; face seal gives top protection from water and wind exposure
Full length body zipper gives a water-tight seal
Non-slip durable rubber soles provide traction on wet surfaces
Usually ships in 1-2 weeks
Image
Part#
Product Description
Price
Stock
Order
OC8000HR-U-OR
Ocean Commander immersion suit w/Harness, orange

Usually ships in 1-2 weeks
45% lighter than conventional neoprene immersion suits, the OC8000 provides flexibility and waterproof protection as well as maximum flotation and insulation in a detachable liner. The detachable inner buoyancy liner is constructed of closed-cell AirSoft foam for maximum flotation and thermal insulation, and it can be un-snapped and removed for in-the-field repairs and cleaning.
Hood offers a water-tight fit; face seal gives top protection from water and wind exposure
Full length body zipper gives a water-tight seal
5 mm neoprene removable mitts provide warmth and stow in sleeve pockets
Non-slip durable rubber soles provide traction on wet surfaces
Detachable inner buoyancy liner constructed of closed-cell AirSoft foam for maximum flotation and thermal insulation; liner can be un-snapped and removed for in-the-field repairs and cleaning
Inflatable head pillow supports the head at an optimum flotation angle & provides additional buoyancy
SOLAS grade reflective tape on shoulders and arms aids in nighttime detection; whistle and buddy line included
Welded nylon outer shell provides waterproof comfort; high performance urethane coated nylon exterior makes repairs & cleaning easier
Neoprene wrist seals allows for easy donning and a better seal
Storage volume has been reduced by 17% compared to a conventional neoprene suit
High-pitched hailing whistle
Buddy Line for tethering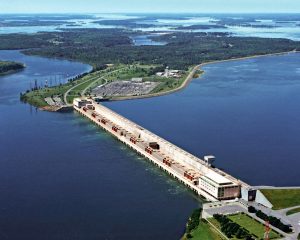 Where and how to monitor water quality is always a challenge, particularly in complex aquatic ecosystems. The new REASON Project from a team at Clarkson University is working to demonstrate the utility of using water quality instrumentation in dams on major rivers in the Great Lakes system. 
 
 Clarkson University Professor of Biology Michael Twiss spoke with EM about the new approach their team is taking at the Moses-Saunders Power Dam across the St. Lawrence River and the benefits the development of smart infrastructure such as this might offer. 
 
 "The upper St. Lawrence River is defined as that which leaves Lake Ontario and is just upstream from the city of Montreal," explains Dr. Twiss.
Read More