Arctic Sea ice in danger of becoming ice-free by 2021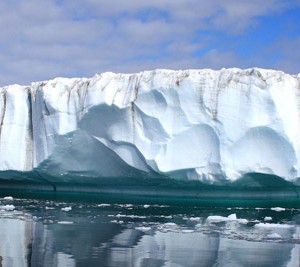 A study conducted in 2010 estimated the volume of Arctic Sea ice is rapidly declining due to changing climate, and could result in an ice-free Arctic Sea within ten years.  
Sea ice is calculated using the Pan-Arctic Ice Ocean Modeling and Assimilation System, which was developed by Polar Science Center, Applied Physics Laboratory at the University of Washington. According to the press, researchers at the UW checked model results against real readings of ice thickness using limited submarine and satellite data. Some experts argue that part of the reason the ice area has dramatically fallen in recent years is because it has been thinning for decades.
While the Arctic Sea goes through periods of melting and re-freezing between the summer and winter months, recent temperature increases have accelerated melting and decreased reforming of the sea ice. Additionally, researchers predict that declining ice levels could spur new oil exploration opportunities but could also disrupt weather patterns and result in a faster rise in sea levels.