Monitoring coastal California watersheds: A local group works to keep the water clean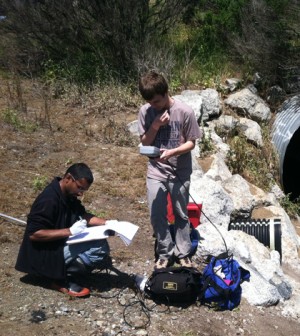 The Coastal Watershed Council is one group keeping an eye on watersheds near the coasts of California. Its data helps influence water policy in the area.
"We share our data with the public and local leaders, and it's been used to make decisions," said Greg Pepping, executive director. "It's not just people going out with a good intention. This is sound, scientific data and we follow good collection protocols."
Watersheds along the California coast are mostly at risk of non-point source pollution, contamination of natural resources originating through runoff from things like golf courses, driveways and old industrial pipes.
The Coastal Watershed Council keeps track of that runoff for watersheds in three counties.
"I'd say 70 percent of our work is in Santa Cruz, 25 in Monterey and about 5 in San Mateo," Pepping said. "We monitor 100 sites in the three counties."
In the 1960s, officials focused on point-source pollution, according to Pepping. The water got cleaner as a result, but it wasn't until the '70s that they realized non-point source pollution could be worse.
"You can't point to it," Pepping said. "It's worse because the source could be a front lawn, someone spraying off their driveway, or a parking lot."
So how do you approach a problem if you can't pin down its cause?
"We want people to know that what we do on land affects water," Pepping said. "We want them to know that you can play a positive role in clean water."
Reaching that goal is attained through the council's volunteer programs and some creative thinking by the organization.
"Our groups monitor creeks, streams and discharge, looking at things like nutrients and metals," Pepping said. "We measure things like DO, pH, temperature, dissolved solids and turbidity."
Those who volunteer use field kits provided by the Coastal Watershed Council. They check things like pH or cite physical observations, like the presence of trash or odor around an area. Nearly 120 people volunteer annually, most joining in the council's largest monitoring event of the year: Snapshot Day. Held the first Saturday in May each year, the event provides a snapshot of waterways flowing into Monterey Bay.
Depending on the needs of an area, the group might monitor a site with a weather station or send physical samples to a lab to analyze contaminants like bacteria, pesticides or phosphates.
"We use flowmeters, data from the USGS and weather stations depending on the site," Pepping said. "YSI makes multimeter probes that we use. They're handhelds that measure things like salinity, DO or temperature."
Another annual volunteer event is First Flush, which yields data on storm drain runoff after the first significant rainfall in the area.
Like many other monitoring organizations, the Coastal Watershed Council is supported by the community it serves. Donors become volunteers and vice versa. The dynamic is an important part of the group's data collection and sharing efforts.
A web database sharing monitoring results – CWC Data & Stewardship Portal – also encourages some friendly ribbing. It focuses on Santa Cruz county.
"Visitors can learn about data, but the Stewardship Portal is meant to let users brag, share, to see what others are doing," Pepping said. "It lets them be inspired by what others are doing and have some bragging rights by uploading photos of what they've done."
Data available on the portal is also shared through reports available on the council's website.
"We monitor water quality levels compared to water quality objectives and tell people if levels are high or low," Pepping said. "People are realizing that we all play a part."
Top image: Volunteers monitoring on Carneros Creek in California; Second image: Greg Pepping, on far right, works with volunteers near the lower Carmel River (Credit: Coastal Watershed Council)