Colorado River named most endangered in U.S.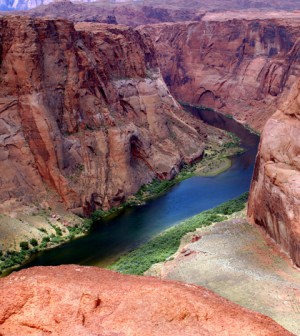 The Colorado River near Page, Arizona (Credit: Adrille, via Wikimedia Commons)
The Colorado River is the most endangered river in the United States, according to American Rivers, a conservation group that named the Colorado as the most threatened in an annually released ranking.
The Flint River in Georgia came in second, followed by the San Saba River in Texas. American Rivers named poor water management methods as the biggest threat to the top three. Other rivers on the list include the Little Plover River in Wisconsin and the Catawba River that stretches across the Carolinas.
The group points to drought, outdated water management techniques and wasteful water use as likely causes for rivers to run dry. Other threats noted to rivers in the ranking include effects from mining, pollution and flooding.
Image: The Colorado River near Page, Arizona (Credit: Adrille, via Wikimedia Commons)