Commission releases Great Lakes water withdrawal figures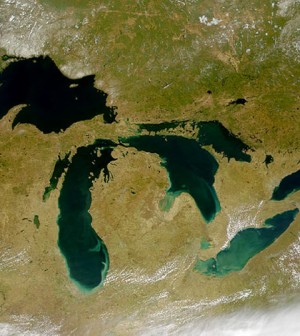 Great Lakes from space (Credit: SeaWiFS Project, NASA/Goddard Space Flight Center, and ORBIMAGE.)
The Great Lakes Commission released a new report listing Great Lakes water withdrawals during 2011.
According to the report, each day a total of 44 billion gallons of water were withdrawn from the Great Lakes-St. Lawrence system for a variety of uses. These ranged from agriculture to public consumption.
The Great Lakes system as a whole contains 6.5 quadrillion gallons of fresh water.
Regionally, Ontario withdrew the most water per day at 37 percent and Michigan followed with 23 percent. Ohio withdrew seven percent of the daily take from the lakes.
Withdrawal figures did not include use of water for hydroelectric power. According to the report, hydroelectric power would have consumed 96 percent of all water withdrawals, if the commission factored it into their estimates. Instead, they focused on purely consumptive use.
Click here to read the full report.
Image: Satellite image of the Great Lakes from space (Credit: SeaWiFS Project, NASA/Goddard Space Flight Center, and ORBIMAGE.)