Fracking sites more vulnerable to earthquakes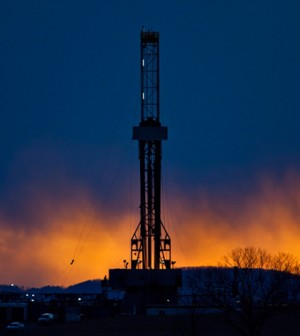 Image: Hydraulic fracturing drill rig in Pennsylvania (Credit: Environmental Protection Agency)
Several studies have linked fracking with earthquakes, according to Discover. Experts say the process, which involves injecting chemicals into underground rock to free trapped gas, was likely the cause of major quakes in Oklahoma.
The most likely cause for the earthquakes is related to the fluid injected into the ground, according to researchers. The pressure it contributes to puts more stress along fault lines, which ultimately shift to cause quakes.
Shaking from far-away earthquakes have long been known to cause seismic activity in areas with naturally high fluid pressure. But quakes caused by human activity, scientists say, is a recent phenomenon.
Image: Hydraulic fracturing drill rig in Pennsylvania (Credit: Environmental Protection Agency)