Great Lakes Basin toxic discharge into surface waters increased from 2010 to 2011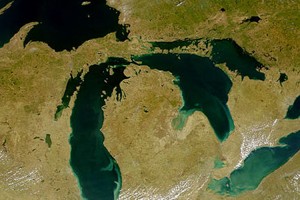 Pollutant discharge into Great Lakes Basin surface waters increased by 12 percent from 2010 to 2011, according to a U.S. Environmental Protection Agency report.
The findings were part of a Toxics Release Inventory analysis performed annually on the nation. Nitrates were found to be the most prolific toxin entering the basin.  The report shows 93 percent of the nearly 11 million chemicals released into the basin were nitrate compounds.
Surface water pollutant discharges decreased for the nation by 3 percent from 2010 to 2011.  It also decreased in the Great Lakes Region by 40 percent since 2003.  An EPA press release reports that toxic releases into Great Lakes surface water is still at the second lowest level in a decade.
Image: Satellite image of the Great Lakes (Credit: SeaWiFS Project, NASA/Goddard Space Flight Center, and ORBIMAGE)