Gulf corals still stressed from Deepwater Horizon spill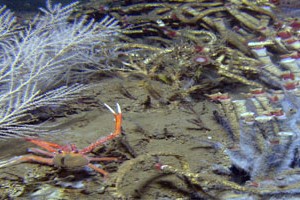 New findings from a group of researchers show that a variety of coral species 11 kilometers from the site of the 2010 oil spill are still suffering from the effects of the oil. A substance referred to as "frothy gunk" and "snot" covered sea fan coral. This is a mixture of mucus the corals secreted as a result of stress as well as petroleum residue and dead coral remains. Out of 43 corals studied at the site, almost half were dead or in poor condition.
The damage is evidence that the spill still affects many deep-water communities, the researchers said. More research will need to be done to determine the extent and confirm the source of the damage.
Read more at Science.