Illinois River gets new flow system and oxygen booster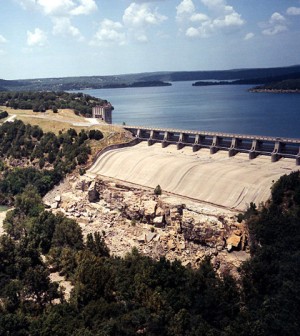 The U.S. Army Corps of Engineers has installed a water flow system and oxygen booster for the Lower Illinois River, according to Tulsa World. The installations will help regulate flow and keep oxygen levels at healthy levels for fish.
A low-flow pipe delivers water to the river from a 60-foot-tall surge tank near the river, while a mobile system for increasing dissolved oxygen can be deployed in the stilling area if needed. Thirteen monitoring stations were also installed downstream to keep tabs on river conditions and inform future management decisions.
The effort was funded in part by the Southwestern Power Administration, which gave around $380,000 to the project. Illinois' state wildlife department installed the downstream monitoring stations with support from the Indian Nations Chapter of Trout Unlimited and Tulsa Fly Fishers.
Image: The Tenkiller Dam, the site of the new flow system and oxygen booster (Credit: U.S. Army Corps of Engineers, via Wikimedia Commons)