Invasive Species Along for the Ride on Wreckage from Japan's 2011 Tsunami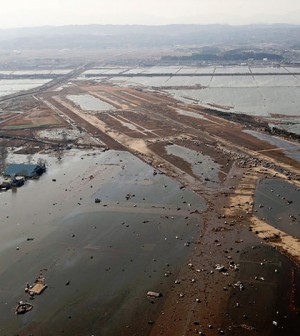 Debris and water after the earthquake and tsunami struck Japan in 2011. (Credit: U.S. Air Force)
Wildlife officials in Washington are still finding wreckage from the 2011 tsunami in Japan travelling to their shores with parasites and organisms not native to the U.S., according to the Seattle Times.
The Department of Fish and Wildlife recently had to inspect the species on a 25-foot-long Japanese skiff that appeared on a remote shore. It was the third debris inspection project this year after the state surveyed 45 pieces of debris last year.
The species are surviving on objects that don't biodegrade easily, such as household items like refrigerators, which harbor entire colonies of wildlife. The tsunami swept an estimated five million tons of debris into the oceans. Though this is still a matter of concern for for the department, they believe that most of the debris has likely sunk to the ocean floor.
Top image: Debris and water after the earthquake and tsunami struck Japan in 2011. (Credit: U.S. Air Force)