Maine monitors road salt to reduce cost, environmental damage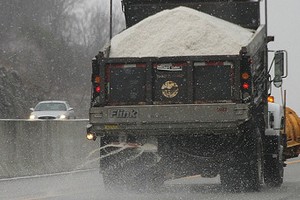 Maine cities are using salt monitoring tools to optimally maintain roadways and reduce the effects of salt runoff on the environment, according to the Portland Press Harold.
Reducing salt use is a high priority for Maine transportation officials.  Less salt means less cost, less vehicle rust and less environmental damage.  According to the article, Maine trucks spread about a billion pounds of salt in 2008.
Many Maine salt spreaders have sensors on board which determine the best amount of salt to spread on roadways based on storm conditions, air temperature and truck speed.  A computer in the truck interprets recorded data and adjusts salt output accordingly.
Road salt used to melt snow and ice on state roadways eventually runs into water bodies where it increases salinity, which can adversely impact local wildlife and make way for hardier invasive species.
Image: A truck spreading salt in Kentucky (Credit: J.C. Burns, via Flickr)