Model predicts greater climate change impacts on erosion near inlets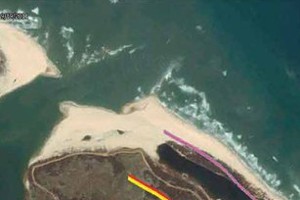 A new model for estimating the effects of climate change on erosion near coastal inlets makes a previous method's predictions look like a gross underestimation, according to a Delft University of Technology press release.
A study published and freely available in the journal Nature found that traditional modeling showed, at best, 50 percent of potential coastline change due to sea level rise in inlet areas.
The standard method for calculating coastline erosion due to sea level rise, called the Bruun effect, mainly examines increased water and the slope of the coast. The new modeling method, developed by Rosh Ranasinghe, an associate professor of engineering at TU Delft, takes other factors into account. The model analyzes increased rain fall, changes in river flows and changes in inlet basin sizes.
Ranasinghe and a team of researchers used the method to analyze four different inlet coastal areas in Vietnam and Australia. Each had unique physical characteristics that would cause different erosion patterns due to rainfall, sediment flow and area.
The study models each condition based on sea level rise due to long term climate change.