NASA study confirms ice sheets melting at increasing rate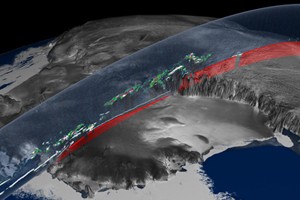 A study published in the journal Science Thursday, Nov. 29 shows the ice sheets covering Greenland and Antarctica are melting at rates faster than those in the 1990s. By including more satellite and aerial data, a team of 47 researchers from 26 laboratories confirmed the rates, according to a release from NASA.
Researchers found the sheets are losing more than three times as much ice each year as they were in the '90s, which is equivalent to a sea level rise of about .04 inches. Two-thirds of the loss is coming from Greenland. Together, the ice sheets in Greenland and Antarctica have contributed nearly half an inch to global sea levels since 1992.
The Ice Sheet Mass Balance Inter-comparison Exercise combined observations from 10 satellite missions to develop consistent measurements of changes in the polar ice sheets. Differences among earlier ice sheet studies were reconciled and measurements collected by multiple types of satellite sensors were also combined.
An illustration of the orbit of NASA's Ice, Cloud and land Elevation Satellite (ICESat), once of the instruments that provided data for the study (Credit: NASA)