New Louisiana wetland acreage expands wildlife management area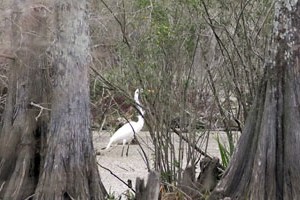 This week, the Louisiana Department of Wildlife and Fisheries and the Coastal Protection and Restoration Authority announced that they now own 29,630 acres of wetland forest property. This newly acquired land will connect the east and west sections of the Maurepas Swamp Wildlife Management area, creating the largest complete tract of wetland forest in the lower Mississippi River Alluvial Valley. The area will provide recreational land for area residents within 30 to 45 minutes of both Baton Rouge and New Orleans.
Wetland forests are particularly important to the Louisiana coast because they provide protection from hurricane storm surges. The LDWF and CPRA plan to have hydrological restoration work done on the land to improve freshwater and nutrient flow to allow more second-growth forests to grow – something the Louisiana coastline has not seen much of in recent years.
Read more at conservationfund.org
Image credit: princeton.edu
Coastal Protection and Restoration Authority