Film on Agulhas Current examines women's role in oceanography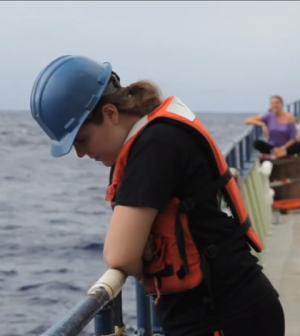 A new video on a study on the Agulhas Current examines the growing role of women in oceanographic research, according to a release from the University of Miami.
It focuses on a research cruise on the Research Vessel Knorr in the Indian Ocean, where women comprised many of the research and operational roles on the ship.
The message from the film is encouraging. "Go for it," said Amy Simoneau, a service technician on the cruise. "I don't think there are any barriers to women at sea these days."
The researchers are working to understand the physics and heat transfer characteristics of the Agulhas Current. The current moves about 100 million cubic meters of water per second along the east coast of South Africa.
During the cruise, researchers on the vessel deployed conductivity, temperature and depth sensors, alongside acoustic Doppler current profilers.   Special moorings are also deployed to track the current.
Data collected will add to data from two other cruises conducted to study the Agulhas Current.
Image: Greta Leber, a University of Miami graduate student in oceanography featured in the film (Credit: University of Miami's Rosenstiel School)