Presque Isle Bay off list of contaminated sites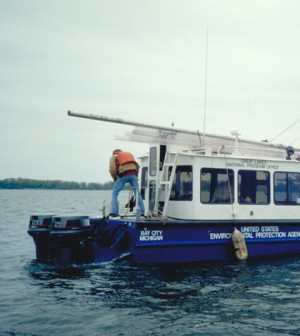 The U.S. Environmental Protection Agency has announced that Presque Isle Bay, located on the Pennsylvania shore of Lake Erie, has been removed from the list of significantly contaminated Great Lakes areas scheduled for cleanup under the U.S.-Canada Great Lakes Water Quality Agreement.
Presque Isle Bay had long been the recipient of contaminated industrial and domestic wastewater, which led to excessive nutrients, organic compounds, toxic metals and various other pollutants affecting the water quality.
Presque Isle Bay's condition has improved due to federal, state and local government intervention in helping to advance Erie's wastewater treatment plant and reduce pollution from shoreline industrial plants.
Image: EPA vessel taking sediment samples from Presque Isle Bay (Credit: EPA)