Report advises on agricultural nitrogen emission cuts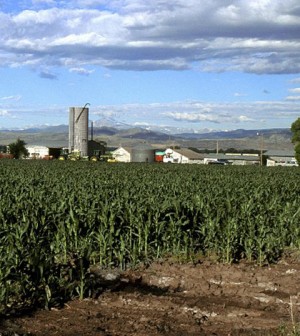 A new study authored by scientists at the University of California, Davis suggests that revised agricultural practices could help control some greenhouse gases and atmospheric pollutants, according to a UC Davis report.
The study, aimed at understanding the toxic soil emissions of nitrous oxide and nitric oxide, showed the importance of manipulating oxygen levels during farming.
Using isotopic analysis, researchers found that nitrous oxide emissions increased when the soil's oxygen was limited, which contradicts previous studies suggesting that nitrous oxide and oxygen levels were positively correlated.
The study could help researchers and agricultural advocates make better recommendations for more responsible soil manipulation and fertilizer applications for farming.
Image: Corn field in Colorado (Credit: Scott Bauer, U.S. Department of Agriculture)