Home
>
Monitoring Gear
>
Sentek EasyAG soil moisture probe offers easy installation and high-resolution data
Sentek EasyAG soil moisture probe offers easy installation and high-resolution data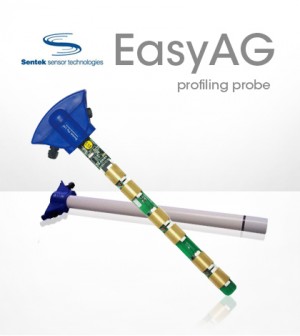 The Sentek EasyAG is a slimline soil probe that measures site trends over the long-term. It has a patented installation technique that is simple enough to not disturb the soil profile, which sets it apart from other probes.
The EasyAG comes in two depths: 30 cm and 50 cm. At those levels, it's well suited for monitoring seasonal crops and bush crops. Thirty-centimeter depths are ideal for herbs and vegetable crops with shallow roots. The deeper option covers the root zone of annual crops.
"It's also used commercially in nursery bags and for shallow rooted pasture applications," said Rob Guy, general manager. "Other applications include research relating to the interaction of the topsoil with plants and the atmosphere."
The probe's unique installation technique uses stabilization brace anchored by pins to the spot where the probe will be installed. The provided guide insert is put through the center of the brace and then an auger removes a sample core. The EasyAG is then installed in the hole that remains.
The probe can measure moisture and solute concentration simultaneously, allowing for the management of irrigation and solute. Those management observations can be used for tracking fertilizer or monitoring salinity.
The EasyAG can measure moisture, fertilizer and salinity. Three open interface options are available for the probe, including Modbus RS232, Modbus RS485 and SDI-12. Sentek also offers three proprietary interface options: RS232 Plus, RS485 Multi and 5-wire RT6.
The probe is also capable of working with different kinds of data loggers, like the NexSens iSIC.
"The logger can request the data from each sensor according to addressing and the protocol selected," said Guy. "For the RS232 Plus and RS485 Multi protocols, the probe interface is a logger and controls the external modem connection to an FTP site."
Guy says that Sentek's Solo firmware may be loaded on the probe, which can turn it into a self-contained logging unit. With that option, data is recorded and then manually collected on SoloPORTER, a line of Sentek data storage devices.
The EasyAG is a good option for shallow soil monitoring, but still matches up well with Sentek's flagship probe, the EnviroSCAN.
"Despite the smaller diameter, the sphere of influence matches the EnviroSCAN probe," said Guy.
That places the sphere of influence, or area around the probe tube wherein readings are taken, at a radius of 10 cm.
Guy says the best feature is the EasyAG's installation technique, but says that its high-resolution reading capabilities are a close second.
About Daniel Kelly