Home
>
Technology
>
Side scan sonar helps Wyoming emergency investigations
Side scan sonar helps Wyoming emergency investigations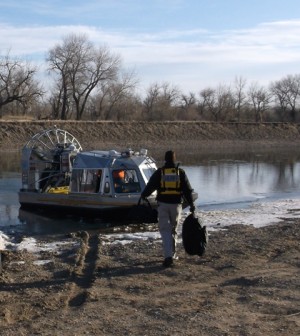 When the worst happens, officers from federal and state departments are there to sort things out.  When the worst happens while they're off duty, some are still there as volunteers.
Patrick Pritchard, a transportation security manager at the U.S. Department of Homeland Security, is one of those volunteers.
He is part of the Wyoming Emergency Response Team, a group of state and federal law enforcement officers that volunteer to help first responders.  The team is usually dispatched through the Wyoming Office of Homeland Security.
Pritchard said much of what the team does is search for evidence and missing persons.
A new addition to the group's recovery arsenal is a Tritech Starfish Side Scan Sonar unit. The team uses sonar imaging to aid searches on bodies of water.
While the unit is mainly designed for deep applications, Pritchard said he successfully used the tool while searching the shallow and icy North Platte River.
He and other members of the emergency response team took an airboat across the river using the pole mount on the side scan sonar to inspect the bottom.  "I could actually see under the ice sheet all the way to the shore," he said.
Pritchard said he got the best clarity from the sonar in shallows using the green image filter. The boat's speed was also tuned in for the best quality during three hours of cruising along the river. The Starfish returned the best images at three miles per hour upstream.  "I couldn't believe it," Pritchard said of the image quality.
The team has also used the sonar unit while searching a Wyoming reservoir to locate dangerous steel cabling previously dumped below.  "We can take a quick scan and we can find hazards in the area," Pritchard said.
Scanning before the team sends divers into the water can make for a safer recovery operation as divers have a better idea of entanglement hazards.
Life has a way of going wrong from time to time. Wyoming's Emergency Response Team can make things a little easier for their fellow law enforcement officers and Wyoming residents with the help of a little monitoring technology scanning the water below.
Top image: Law enforcement and the Wyoming Emergency Response Team deployed side scan radar from an airboat on the North Platte River (Credit: Patrick Pritchard)
About Austen Verrilli