Study predicts changes alpine lakes from global warming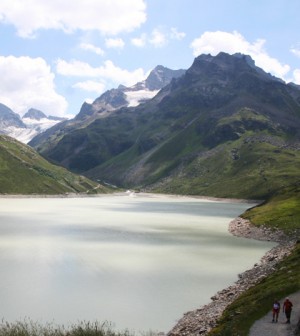 A new study from the Institute for Limnology at the University of Innsbruck in Austria has shown that as temperatures increase because of global warming, surface water in alpine lakes could be adversely affected, according to a release from the study's publisher.
Researchers analyzed long-term air and surface water temperature data cataloged in the Austrian Hydrological Yearbooks since the mid-1960s. Using the data, scientists predicted that Austria's lakes could face a temperature increase of up to 3 degrees Celsius by 2050.
The research could help predict how increased water temperatures might influence global waterways in the future.
The study suggests that the warmer water temperatures could lead to nutrient loading and increases in algal blooms that would adversely affect marine life.
Image: Lake Silvretta in Austria (Credit: Angela Huster, Wikimedia Commons)