Technical difficulties hamper Rutgers' ocean-crossing gliders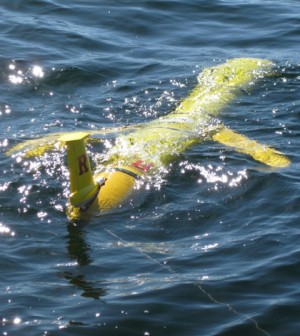 Rutgers University's unmanned aquatic vehicles crossing the world's oceans have run into some technical issues, according to a Rutgers blog on the expeditions.
The university has two Slocum Gliders deployed and neither are functioning correctly in the open ocean.
The team first lost communication with its AUV Challenger just as it was crossing the Prime Meridian.  It has been several days since last contact with the glider.
Rutgers second ocean-crossing AUV, Silbo, then developed an issue with its ballast pump, which keeps the glider "flying" up and down the water column.  The failure has the glider stuck on the ocean's surface at the mercy of the currents.
The RV Knorr is near Silbo, so Rutgers scientists will be working with the research crew on board to repair and redeploy Silbo, if possible.
Image: The Rutgers glider shortly after deployment near South Africa (Credit: Rutgers/I-COOL)