Trimble's Yuma rugged tablet honored with 2009 Best Of FOSE Award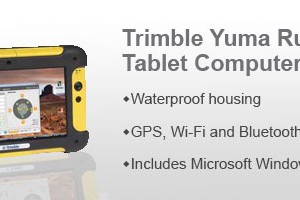 Trimble recently received a Government Computer News (GCN) Best of FOSE (Federal Office Systems Exposition) award for the new Yuma rugged tablet computer. The Yuma brings full office capabilities to the field in a mobile package with its Microsoft Windows operating system and wireless connectivity.
The Yuma tablet can function in the harshest outdoor conditions as a hand-carried computer, mounted on a tripod or pole for data collection, or secured in a vehicle-mount for use as a computer on the road. It is equally adept in a climate-controlled office. With this true all-in-one computing tool, a mobile worker can get the job done anywhere.
More than 65 companies submitted a total of 115 new products for consideration. GCN's editors and technology analysts reviewed the new products during the FOSE show March 10-12 in Washington D.C. and chose the winners based on four criteria: innovation; usability/applicability to government; relative performance based on specifications; and value.
"Government workers find it critically important to have accurate up-to-date information at their fingertips," said Ken Wineberg, federal sales manager for Trimble's Mobile Computing Solutions. "From utilities to homeland security applications, reliable and easy-to-use integrated solutions are required to increase efficiency and avoid the need to transcribe information. That's all possible with the Yuma tablet. Its dynamic mix of ergonomic design, ruggedness and computing speed can provide significant value to the user. Now, workers can carry their office wherever they work."
About the Yuma
The Yuma is a field-rugged tablet Computer with Windows Vista Business Software. Yuma can be used with popular instrument software applications including NexSens iChart, micro-T, weatherVIC & WQSensor; YSI EcoWatch & Data Manager; In-Situ Win-Situ 5.0; Solinst Levelogger Gold; and more!
Multiple sensors can be simultaneously connected via (1) 9-pin serial port and (2) USB 2.0 ports. Other features include built-in WiFi, Bluetooth & GPS, SDIO memory slot, ExpressCard 34mm slot, dual (front & rear) cameras, and 7" sunlightreadable WSVGA color touch screen. Yuma is IP67 rating for accidental immersion in 1m of water for up to 30 minutes and meets MIL-STD-810F military standard for drops, vibration, humidity, altitude & extreme temperatures.
For additional information on the Trimble Yuma Rugged Tablet Computer, please call 888.426.2151 or email customercare@fondriest.com.