USGS develops new method for measuring coral growth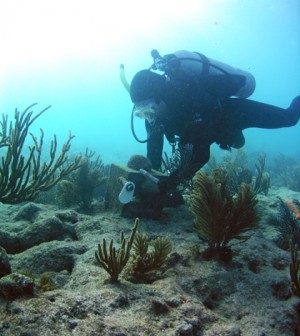 The USGS has developed a new method of monitoring coral growth in reefs, according to a press release.
The new approach to measuring coral relies on weight analysis rather than linear measurement, and is more sensitive than previous techniques. Reef managers can benefit from its high precision, allowing them to detect possible problems earlier and more accurately.
"We should pay more attention to different aspects of water-quality if we hope to understand and predict what will happen to coral reefs as oceans continue to change," said Ilsa Kuffner, a scientist for the USGS.
Kuffner said that reef managers are already aware of the decline of coral reefs, but are determined to understand why they are declining.
Image: A SCUBA diver working on a clacification station at Fowey Rocks, Biscayne National Park, Florida (Credit: Carlie Williams/USGS)