Virginia's Harbor Park Site: Planning For Rising Seas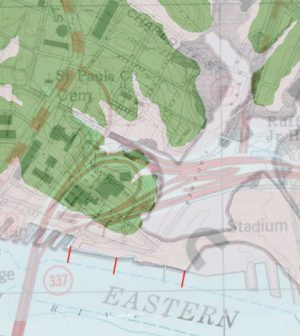 Areas around the Harbor Park Site that were originally land are in green while areas that used to be water, but were filled in during industrial development, are in gray. (Credit: University of Virginia)
The Harbor Park Site near Norfolk, Va. used to be water and wetlands, but was filled in with debris and rubble like other industrial sites along the U.S. coast. Nowadays, the threat of sea level rise has University of Virginia researchers concerned for its future.
Architecture students at the university have spent much of the last year coming up with possible solutions for the site. These range from rehabilitating the land and creating wetlands to building a series of walls and earthen berms to protect key features like the interstate and railroads.
But the problem isn't just localized to Harbor Park. The Elizabeth River and surrounding Hampton Roads area is seeing the highest rate of sea level rise along the U.S. East Coast.
Researchers project between 3 and 8 feet of sea-level rise there over the next century, with land also sinking at a rate of 0.12 inches per year. The Hampton Roads Planning District Commission predicts that sea level rise will threaten more than 59,000 residents and nearly $85 billion in assets in the Norfolk area.
Scientists at the university say that Norfolk faces problems similar to those faced by cities like Boston and New York City, where there has been low-lying wetland and coastal areas filled in over time. The areas are highly prone to flooding and often hold contaminated landfill that can hurt water quality and ecosystems nearby.
Still, there is some time to prepare for the worst of what sea level rise could bring to the Harbor Park Site and areas nearby. U. of Virginia investigators note that they're looking at a time frame of about 50 years in planning their treatments.
They argue that the most effective strategies involve acknowledging the likelihood that some areas will flood and allowing them to become wetlands again. But there is clearly a point at which that approach wouldn't work, and so planners are looking to the Netherlands for inspiration.
The Dutch are famous for their engineering feats that protect their countrymen and urban areas from the encroaching ocean. Notable in their approach is that the Dutch have the foresight to plan which areas they will allow to flood and which they'll protect, giving ample time for people and infrastructure to relocate.
Top image: Areas around the Harbor Park Site that were originally land are in green while areas that used to be water, but were filled in during industrial development, are in gray. (Credit: University of Virginia)
About Daniel Kelly