Wide-ranging NASA radar flight mission wraps up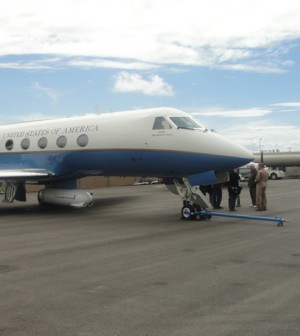 A NASA aircraft carrying Uninhabited Aerial Vehicle Synthetic Aperture Radar is finishing a month-long mission over the Americas aimed at addressing a wide-range of scientific questions, redOrbit reports.
The sophisticated radar uses a technique called interferometry that sends microwave signals from the aircraft to the ground to measure subtle changes in the Earth's surface.
The radar will be used to assess volcanic and agricultural sites, glacial melt from global warming, archaeological ruins and carbon emissions from forests, among other things.
The data will be analyzed by various teams of researchers from multiple countries in attempts to understand the world's changing environments.
Besides having the capacity to provide essential scientific data, the project will also help U.S. researchers establish relationships with Latin American scientists.
Image: NASA's Gulfstream III carrying Uninhabited Aerial Vehicle Synthetic Aperture Radar (Credit: NASA)