NexSens A01 8.5 A-Hr Battery
These high capacity, SLA (sealed lead-acid) batteries fit securely in NexSens iSIC data loggers and offer adequate power for most field applications.
Features
Absorbent Glass Mat (AGM) technology provides superior performance
Rechargeable battery can supply sufficient system power for long-term deployments
Rugged plastic case and cover allows for maintenance-free use
Usually ships in 3-5 days
Image
Part#
Product Description
Price
Stock
Order
A01
Battery, 12 VDC, 8.5 A-Hr

Usually ships in 3-5 days
The A01 12 VDC 8.5 A-Hr battery provides the power necessary to run NexSens telemetry products and is the standard battery included with all iSIC Data Loggers. The A01 is rechargeable and compatible with NexSens AC and solar charging systems.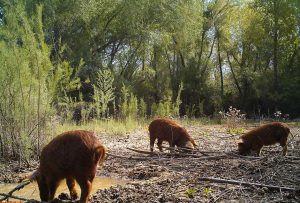 When pigs get out of their pens, they can really tear up a landscape. Five million pigs in 39 states can tear up a lot of landscape. 
 
 "They're one of the top 100 invasive species in the world. Anywhere wild pigs are not natural and they show up, they do a lot of damage to other species," said Dwayne Etter, a research specialist with Michigan's Department of Natural Resources and a part of a research team that tested a new feral swine monitoring technique that uses environmental DNA. 
 
 Environmental DNA (eDNA) is genetic material organisms lose in the environment. If a pig crosses a creek or defecates in it, a researcher, in theory, should be able to pull that DNA out of the water further downstream.
Read More