The NexSens CB-150 Data Buoy is designed for deployment in lakes, rivers, coastal waters, harbors, estuaries and other freshwater or marine environments.
Features
Integrated 10-watt solar panels for 30-watts of solar charging
Three 2" diameter sensor holes with female NPT threads for sensor deployment
Topside plate supports solar marine light, weather stations, and other sensors
Fondriest Exclusives
Expedited repair and warranty service
Lifetime technical support
The NexSens CB-150 Data Buoy is designed for deployment in lakes, rivers, coastal waters, harbors, estuaries and other freshwater or marine environments. The floating platform supports both topside and subsurface environmental monitoring sensors including weather stations, wave sensors, thermistor strings, multi-parameter sondes, Doppler current profilers and other monitoring instruments.

The buoy is constructed of an inner core of cross-linked polyethylene foam with a tough polyurea skin. A topside 13" tall stainless steel tower includes three 10-watt 12VDC semi-flexible solar panels, and a center 10" ID x 13.5" tall data well accommodates batteries, data loggers, sensors, and more. Three 2" passthrough holes with female NPT bottom threads allow for quick connection of instrument deployment pipes and custom sensor mounts. The stainless steel frame supports both single point and multi-point moorings.

The CB-150 Data Buoy is optimized for use with NexSens X2-CB data loggers. Wireless telemetry options include cellular, Iridium satellite, and spread spectrum radio. Compatible digital sensor interfaces include RS-232, RS-485 and SDI-12. Each sensor port offers a UW receptacle connector with double O-ring seal for a reliable waterproof connection. For custom integrations, an optional pass through data well lid includes a set of plugs and cable gland fittings.
Hull Outer Diameter: 24.0" (61.0cm)
Hull Height: 14.0" (35.6cm)
Data Well Inner Diameter: 10.3" (26.2cm)
Data Well Height: 13.5" (34.2cm)
Pass-Through Hole Diameter: 2.0" (5.1cm)
Tower Height: 13.0" (33.00cm)
Solar Panels: 3x 10-watts
Weight: 100 lb (46kg)
Net Buoyancy: 150 lb (68kg)
Hull Material: Cross-linked polyethylene foam with polyurea coating & stainless steel deck
Hardware Material: 316 stainless steel
Mooring Attachments: 3x 3/4" eyenuts
(1) CB-150 solar tower
(1) CB-150 buoy hull
(1) CAGE instrument cage
Questions & Answers
How is this buoy powered?
The CB-150 data buoy is powered by a 12VDC sealed lead acid battery or set of batteries housed inside the watertight data well. These batteries are continuously charged by the 8-watt solar panels integrated on the tower.
What types of instruments can be deployed on this platform?
Common instruments include water quality sensors and sondes, temperature strings, wave sensors, and acoustic Doppler current profilers (ADCP's). Please refer to our supported sensor list for a more comprehensive list.
Are these buoys rated for impact?
The polyurea coating provides impact resistance, though it's possible that the coating can become cracked or damaged with heavy impact. In these situations, the crack can be sealed with silicone sealant to prevent delamination between the coating and closed-cell foam
What happens when a buoy breaks free of mooring equipment?
If there's a potential for the buoy to break free from the mooring, it is recommended to integrate a GPS receiver to track its location.
Does the CB-150 include a data logger or do I need to supply my own?
The CB-150 buoy platform is available with the optional X2-CB data logger. NexSens can provide a turnkey CB-150 system complete with an X2-CB wireless data logger, WQData LIVE web datacenter, met/water sensors, and mooring hardware. Alternatively, the CB-150 can be supplied as a floating 12 VDC power source for customer integrations. Each data buoy comes standard with a passthrough data well lid that accommodates cable runs into the watertight data well. The data well is a 10" diameter and will fit most data loggers and modems on the market. The CB-150 data buoy is flexible for any buoy project, from turnkey to DIY and anything in between.
Can the CB-150 data buoy be shipped internationally?
Yes, it can be shipped internationally via UPS, FedEx, DHL, or customer-arranged freight carriers. The CB-150 is the largest size buoy that can be shipped in a cardboard box rather than on a pallet. It is possible to ship integrated buoy systems in separate boxes to keep shipping rates lower as long as each individual box does not exceed 150 pounds; however it is preferred to ship these turnkey systems on an export-approved pallet so that everything is assembled prior to shipment.
How many sensors can I fit on a CB-150 data buoy?
When purchased with the standard passthrough data well lid, six sensor ports are supplied for cable integration. When supplied with the X2-CB data logger, there are five integrated sensor ports. These can be expanded through 2-way and 4-way sensor splitters. In this case, the maximum number of sensors depends on the output of the sensors in use. The X2-CB data logger can accommodate up to three RS-232 sensors, up to ten SDI-12 sensors, and virtually an unlimited number of RS-485 Modbus RTU sensors.
Can the solar panels be individually replaced in the field?
The solar panels feature a waterproof 2-pin connector that plugs into a 3-way splitter on the solar tower. In the event of a failure, the solar panel can be swapped out in the field.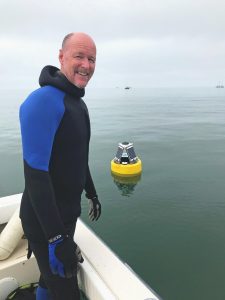 Thirty years ago, white shark sightings near California's beaches almost never happened. For Chris Lowe, who was a graduate student at California State University's Shark Lab at the time, spying a dorsal fin from one of the ocean's top predators was very rare. 
 
 Prior to the mid-90's, an expansive commercial fishing operation and the loss of marine animals decimated white shark populations. If their food wasn't being hunted, sharks were getting caught in gill nets. At that point, they would be killed anyways before getting brought to the market to be sold. 
 
 Then in 1994, California residents approved propositions that banned gillnets in state waters and enacted protections for the white shark.
Read More