The CB-40 Data Buoy offers a compact and affordable platform for deploying water quality sondes and other instruments that integrate power and data logging.
Features
Integrated 4" diameter stainless steel slotted instrument pipe
Supports 1-3 nautical mile light for deployment in navigable waters
Lightweight system can be deployed by a single person
Fondriest Exclusives
Expedited repair and warranty service
Lifetime technical support
The CB-40 Data Buoy offers a compact and affordable platform for deploying water quality sondes and other instruments that integrate power and data logging. The lightweight platform can be deployed from small boats, large vessels or even helicopters, making it the ideal choice for applications where water needs to be monitored at a moment's notice.

The buoy is constructed of an inner core of cross-linked polyethylene foam with a tough polyurea skin and stainless steel frame. An optional 1-3 NM solar marine light mounts over the topside access hole, and three eyenuts offer a convenient lifting point. The CB-40 supports a 1, 2, or 3-point mooring via bottom bow shackle and three eyenuts. Optional accessories include chain, shackles and anchors for buoy mooring.

The CB-40 Data Buoy weighs 38 lbs. with no payload and approximately 45 lbs. with integrated solar marine light and water quality sonde. The 4" stainless steel instrument pipe securely houses the instrument and includes slotted holes for water flow. Compatible instruments include YSI 6-Series & EXO sondes, Hydrolab Series 5 & HL sondes, Eureka Manta & Manta+ sondes, and In-Situ Aqua TROLL instruments.
Hull Outer Diameter: 14.0" (35.6cm)
Hull Height: 20.0" (50.8cm)
Instrument Pipe Inner Diameter: 3.9" (9.83cm)
Instrument Pipe Height: 48.0" (121.9cm)
Weight: 38 lb (17kg)
Net Buoyancy: 40 lb (18kg)
Hull Material: Cross-linked polyethylene foam with polyurea coating & stainless steel deck
Hardware Material: 304 stainless steel
Mooring Attachments: 3x 5/8" eyenuts
Questions & Answers
Are there data logging options for this model?
The instrument deployed in the buoy can have internal logging (i.e. multi-parameter sonde) although there is no data logger option for this model. The CB-50 and larger buoy platforms support NexSens X2 data loggers.
Is telemetry available for this model?
No, the CB-50 and larger buoy platforms can accommodate this feature.
Other than multiparameter sondes, what instruments can be deployed from this platform?
Any submersible instrument with internal power & data logging that fits within a 4" diameter x 48" long pipe could be deployed from this platform.
Is the platform able to house sensitive electronics?
There are no waterproof housing compartments on this platform. The CB-150 and larger buoy platforms can accommodate sensitive electronics inside the data well.
How is this platform used as an underwater float?
The CB-40 can be deployed subsurface with an anchor heavier than the net buoyancy of the deployed equipment. This is useful when monitoring at a fixed distance from the bottom of the water body.
What is the most common mooring strategy for the CB-40?
Generally, no more than one point moorings are necessary due to the structure of the deployment pipe. Tangling is not a factor as instruments are enclosed in the pipe and do not hang freely below the CB-40. And, since cages are not a possible added feature to the CB-40, one anchor line is sufficient unless conditions are unusually rough.
Does the buoy require more maintenance in a wastewater lagoon?
Buoy maintenance depends solely on the surrounding conditions. Water quality measurements could read inaccurately if the instrument pipe becomes clogged or covered with debris. High biological fouling will call for more frequent cleanings, typically in wastewater lagoons or bays with zebra mussels and barnacles present. We suggest to visit the buoy once a week or once a month at first, depending on local conditions, and assessing how often cleanings are necessary.
Where is the power supply on the CB-40 buoy?
The CB-40 buoy is not designed for solar power or auxiliary battery packs. The compact, four inch diameter instrument tube holds any small sensors, some of which include integrated batteries and data logging capability. No real-time data telemetry is available for the CB-40 buoy due to the small size. Planning trips to the buoy will depend on maintenance demand and battery and data storage capability.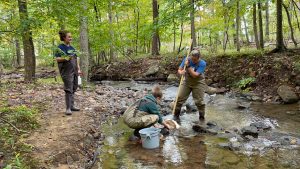 The Chesapeake Bay is enormous: the Bay and its tidal tributaries have 11,684 miles of shoreline—more than the entire U.S. west coast. It is the largest of more than 100 estuaries in the United States and the third largest in the world. The Bay itself is about 200 miles long, stretching from Havre de Grace, Maryland, to Virginia Beach, Virginia. 
 
But the Chesapeake Bay isn't just enormous--it's enormously important. The Chesapeake Bay Program reports that its watershed covers about 64,000 square miles and is home to more than 18 million people, 10 million of which live along or near the Bay's shores.
Read More