NexSens G2-RAIN Alert System
The NexSens G2-RAIN Alert System incorporates a precision rain gauge with cellular data communication and real-time notifications.
Features
Rainfall notification on any smartphone or computer
Streamlined design with integrated mount and up to 3 year battery life
Long-term stable calibration on integrated tipping bucket
Fondriest Exclusives
Expedited repair and warranty service
Lifetime technical support
The NexSens G2-RAIN Alert System is a self-contained rain monitor with an integrated precision rain gauge and real-time data alerts. It transmits accurate rainfall measurements directly to WQData LIVE's cloud based data management platform using internal power and an embedded cellular modem. Paired with WQData LIVE's configurable alerts, users are notified of rain events directly on a mobile device or computer. Historical rain data can be viewed, graphed, and downloaded from WQData LIVE for additional analysis.

Integrated tipping bucket and MAST mount features create an easy to setup and simple to maintain monitoring system which can be installed and relocated in minutes. Devices can be configured directly from any web browser without the need for costly site visits and complicated connections.

The G2-RAIN's included Tipping Bucket Rain Gauge uses a standard 8" (200mm) diameter receiver that adheres to WMO & NOAA criteria. The rain gauge is the device of choice for accurately measuring low rainfall events and still provides good accuracy measuring heavier rain events. The collector funnel comes with a stainless steel filter screen to reduce manual maintenance by preventing leaves and other debris from clogging the opening.

G2-RAIN-RTU
RTU Mount: 2" NPT pipe thread
Rain Gauge Mount: Mounting flange (Compatible with Rickly 3510, HyQuest TB3/4/6)
Material: Aluminum body with white powder coat finish
Weight: 6.5 lbs.
Dimensions: 5.4" Diameter, 4" Height
Temperature Range: -30 to 70 °C
Rating: IP65
Memory: Over 1.5M data records before rollover (Over 85 years with a 30 minute interval)
Battery: (2) D-Cell lithium (Thionyl Chloride)
Battery Life: 1 to 3 years (temperature dependent)
Tipping Bucket Input Connector: 2 pin screw terminal
Sensor Input Signal: Contact closure (100mS minimum)
Communication: Verizon or AT&T 4G cellular modem
Transmission Trigger: Interval rain rate, time-based
User Interface: NexSens WQData LIVE web portal
Rain Interval: User configurable from 5 minutes to 24 hours (30 minute default)
User Parameters: Interval Rain, Rain Intensity, Total Rain (Calculated)
Meta Data Parameters: Tip Counter
Diagnostic Data Parameters: Input Power, Internal Temperature, Internal Humidity, Cell Signal Strength, Cell Module Power, Processor Power, Processor Current, RTC Power, Cell Module Current, Cell Status
Tipping Bucket Rain Gauge (Included with G2-RAIN)
Weight: 4.63 lbs.
Dimensions: 8" Diameter, 13.00" Height
Material: Powder-coated aluminum enclosure; UV-resistant ASA base; Chrome-plated ASA bucket
Sensitivity: One tip per 0.01" rain
Measuring Range: 0 to 27 in/hr
Measuring Intensity Accuracy:
+/-1% @ 0 to 2 in/hr
+/-3% @ 2 to 4 in/hr
+/-5% @ 4 to 6 in/hr
+/-7% @ 6 to 8 in/hr
Temperature Range: 4 to 70 °C
(1) G2-RAIN-RTU
(1) G2 Series Battery Pack (installed)
(1) Rain Gauge (not included with G2-RAIN-RTU)
(1) SMA Antenna
(1) SMA Right Angle Adapter
(1) 9/64" Hex Wrench
(1) Quick Start Card
Questions & Answers
Is WQData LIVE free with this system?
The Basic version of WQData LIVE is available at no cost. A paid Advanced version is also available with advanced alarming and reporting capabilities.
Is this system rated for extreme weather? How can I secure the unit so that it is?
Secure the base of the mounting pole in concrete or other reliable material.
Can I retrieve data directly from the unit or only through the online datacenter?
The system is designed for wireless data transmission to WQData LIVE, but data can be manually extracted from the internal SD card if needed.
Does the product come with a rain gauge or do I need to supply my own?
The G2-RAIN comes bundled with a syphoning tipping bucket rain gauge, but the G2-RAIN-RTU does not in order to allow you to use your own gauge if desired.
Why is the rain interval limited to a minimum of 5 minutes?
Various research has shown that using a period shorter than 5 minutes with a tipping bucket rain gauge is inaccurate due to the stepped nature of the gauge's output. Since the bucket can be partially full at the end of a period without the G2-RAIN knowing, it is necessary to increase the rain interval to at least 5 minutes for reliable measurement values.
Does the G2-RAIN's included tipping bucket rain gauge adhere to WMO & NOAA criteria?
Yes, the tipping bucket that is included with the G2-RAIN has an 8" opening and adheres to WMO & NOAA criteria.
Can this product be used in a Flood Alert System?
Yes, this product's real-time updates and configurable alarms make it great for warning users of flood situations.
Do I need to purchase an additional cellular antenna?
No, it comes with an SMA whip antenna that works fine in locations with good cellular coverage. If cell signal is weak in the deployment area, the included right angle adapter can be installed to increase signal strength.
Are the batteries user replaceable?
Yes, the user can purchase replacement battery packs and install themselves.
What are the most common applications for the G2-RAIN system?
While the G2-RAIN can serve most any general rainfall monitoring applications, it is often found on construction sites to alert for rain events and quantify the rainfall. The G2-RAIN is also an effective tool in any stormwater plan and often accompanies water level and/or flood monitoring systems.
How often do I need to clean the rain bucket?
The G2-RAIN is designed for low maintenance. Yearly checks are recommended to clear the rain bucket housing of debris.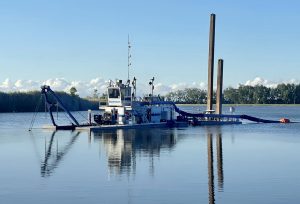 Though dredging is often painted in a negative light, dredging initiatives and projects are often conducted to improve environments, begin recovery periods for water beds contaminated with toxins, and reinvigorate ecological systems and habitats. Many of the technicians and engineers who plan and execute dredging projects are dedicated to balancing the economic benefits of dredging with protecting the environment. 
 
 Sevenson Environmental Services Inc. provides sediment remediation as one of many key services offered to help restore natural environments. Steven Shaw spent more than a decade working as an engineer on various dredging projects before finding his way to Sevenson eight years ago.
Read More