NexSens SDL Maintenance Kit
The SDL maintenance kit provides the tools and spares required to keep submersible data loggers watertight and reliable for extended deployments.
Features
SDL sensor bulkhead guards and battery lids are easily disassembled using the removal tool
Kit includes everything to keep an SDL data logger operational
Usually ships in 3-5 days
Image
Part#
Product Description
Price
Stock
Order
SDL-MAINT
Maintenance kit for SDL submersible data loggers

Usually ships in 3-5 days
The SDL maintenance kit provides five spare o-rings with lubricant, two spare port plugs, and one SDL guard removal tool. Double o-ring seals in each port on the SDL are required for submersibility, so care must be taken that all o-ring seals are clean, dry and lubricated and that all ports are plugged prior to deployment.

Maintenance kits are included with the initial purchase of SDL500 data loggers, but can be purchased as necessary if additional spares are required.
(1) SDL Guard removal tool (3/16 handled Allen wrench)
(1) O-ring lubricant tube, 1/2 oz.
(2) Spare SDL port plugs
(5) Spare O-rings, EPDM 116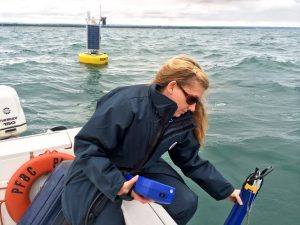 Since its population bottomed out, the federally-endangered Piping Plover in the Great Lakes has made a comeback for the ages. 
 
 A population that once measured approximately 17 pairs and rebounded, hitting 76 pairs in 2017. The same year that count was made, the plovers had also returned to Gull Point, a nesting location that hadn't been used in more than 60 years. 
 
 In an effort to understand some of the conditions that have allowed this species to return to its habitat, researchers have directed their attention toward a curious instrument for help. 
 
 A buoy that floats off the coast of Presque Isle State Park , near where Gull Point is located.
Read More