OTT Pluvio2 S Precipitation Gauge
The OTT Pluvio2 S weighing precipitation gauge measures the intensity and cumulative precipitation in a broad measuring range from 0 to 3,000 mm/h.
Features
Compact, weather-resistant collecting bucket for 400mm of precipitation
Meets the requirements of WMO Guidelines No. 8
Precisely captures even extreme precipitation events of up to 3000 mm/h
Fondriest Exclusives
Free ground shipping
Expedited repair and warranty service
Lifetime technical support
The high-quality OTT Pluvio2 S weighing precipitation gauge uses the weighing principle for dependably and precisely measuring the intensity and cumulative precipitation in each weather condition. Its compact designed collecting bucket featuring a 200 cm2 collecting area accepts up to 400 mm of precipitation. The instrument is a further development of the OTT Pluvio series that has been successfully used in more than 10,000 stations worldwide and offers state-of-the-art technology in compact design. It is designed for professional use, and is suited for weather observer measuring networks as well as for urban precipitation stations or weather service measuring fields where only limited space is available.

Its advanced technologies for data logging and processing including signal analysis, filtering, and noice reduction provide highly accurate results in a broad range of 0 to 3000 mm/h. The sophisticated mechanical and electronic design as well as lifetime calibration ensure long useful life with minimum maintenance requirements. Even units fitted with orifice rim heater may be used in reduced voltage operation for solar-powered stations.

Because of its compact design, the Pluvio2 S unit needs only little space and may be installed to 2-inch pedestals. Thus, it can be used to easily replace tipping buckets or manual rain gauges in existing installations and can even be installed to their devices carriers, eliminating the need for any concrete work.
(1) Pluvio2 S weighing precipitation gauge
(1) Installation accessory kit
(1) USB cable
(1) Set of operating instructions
(1) Factory acceptance test certificate
Questions & Answers
Does this sensor come cabled?
No, you will need to purchase the cable with the sensor. There are two cable options, either for use with or without the ring heater.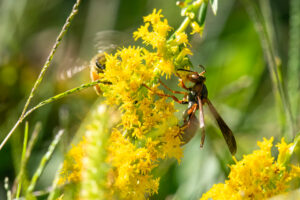 Pollinators of all shapes and sizes are vital to ecosystems around the world. From the wide array of food people eat to the diversity of life around the planet, life would be very different without them. Pollinators are organisms that help carry pollen from one plant to another, and over 350,000 species can be found worldwide, according to The California Department of Fish and Wildlife . With the strong relationship between plants and pollinators, losing either would have detrimental impacts on ecosystems. 
 
 Over millions of years, both plants and pollinators have evolved alongside each other and formed unique adaptations that allow them to work together, expediting and enhancing the process of pollination.
Read More