Rite In The Rain Tactical Pocket Notebook Kits
Tactical notebook kit contains everything necessary for writing in the elements under cover
Features
Tactical pocket notebook with universal pages keeps notes and self safe
Tactical pen writes on wet paper and upside down
CORDURA fabric cover is durable with a rugged zipper closer
Usually ships in 3-5 days
Rite In The Rain Tactical Pocket Notebook Kits is available to buy in increments of 5
Image
Part#
Product Description
Price
Stock
Order
935-KIT
935 tactical pocket notebook, green, 97 pen, C935 fabric cover, tan

Usually ships in 3-5 days

935T-KIT
935T tactical pocket notebook, tan, 97 pen, C935 fabric cover, tan

Usually ships in 3-5 days

946-KIT
946 tactical pocket notebook, green, 97 pen, C946 fabric cover, tan

Usually ships in 3-5 days

946T-KIT
946T tactical pocket notebook, tan, 97 pen, C946 fabric cover, tan

Usually ships in 3-5 days
935-KIT
935 tactical pocket notebook, green, 97 pen, C935 fabric cover, tan
Usually ships in 3-5 days
935T-KIT
935T tactical pocket notebook, tan, 97 pen, C935 fabric cover, tan
Usually ships in 3-5 days
946-KIT
946 tactical pocket notebook, green, 97 pen, C946 fabric cover, tan
Usually ships in 3-5 days
946T-KIT
946T tactical pocket notebook, tan, 97 pen, C946 fabric cover, tan
Usually ships in 3-5 days
The No. 935 pocket notebook comes in green and tan colors to protect oneself and one's notes. These 3" x 5" spiral bound notebooks have 100 pages with the universal pattern for notes and scaled drawings. Useful reference material is also printed on the back and inside covers.
The No. 97 all-weather tactical black clicker pen writes on wet paper and upside down in temperatures from -30F to 250F.
The No. C980 CORDURA fabric Cover will fit all of Rite in the Rain's 4 5/8" x 7" notebooks, 4 5/8" x 7 1/4" Field-Flex books, or pocket-sized bound books (will not fit the standard bound books). It has a rugged zipper closure and holds up to 4 writing utensils.
Size - 3" x 5"
Page Pattern - Universal green
Binding - Top wire-o Spiral
Inside Cover - Polydura
Outside Cover - Cordura fabric Cover
Number of Pages - 100
Weight - 0.3 lbs
(1) Tactical pocket notebook
(1) Tactical pen
(1) Fabric cover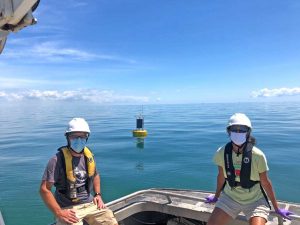 In early 2020, Michigan found itself facing one of the worst outbreaks of Covid-19 in the country. Though it's close to second nature now, businesses, schools and governments were suddenly forced to conduct business without close contact. Universities and research institutions had to pause some scientific research. Whatever was able to continue slowed to a crawl. 
 
 Around the Great Lakes, a network of buoys monitors dozens of water quality parameters and lake conditions, reporting them in real time. This year, the monitoring season was cut a bit short as Covid-19 restrictions hit in the weeks before buoys were set to be deployed.
Read More