Rite In The Rain Wide Format Sheet
Wide format all-weather paper for plans and specifications.
Features
All-weather xerographic paper eliminates the need to laminate
Light blue backing reduces glare
Wide-format paper
Image
Part#
Product Description
Price
Stock
Order
WFS-2436
Wide-format xerographic paper, 100 sheets (24"x36")

In Stock
Rite in the Rain's wide format paper is available in rolls and sheets to create weather-resistant copies of plans and specs. It can be printed on with a laser jet printer or copier and eliminates the need for laminating. Not for use in ink jet printers.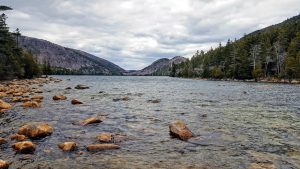 Formed by a glacier, Jordan Pond is among Maine's clearest, most beautiful bodies of water. It's also a critical freshwater resource, and watchful eyes are protecting it. 
 
 EM spoke with Dr. Rachel Fowler, Friends of Acadia's aquatic scientist, about her work monitoring Jordan Pond. A postdoctoral research scientist at the University of Maine, she is a member of a partnership among the National Park Service, the University of Maine Climate Change Institute, and Friends of Acadia that began deploying the Jordan Pond buoy in 2013. Canon provided the initial support for the project. 
 
 Friends of Acadia is a nonprofit organization that supports different projects in the park.
Read More