StarFish 990F Side Scan Sonar Rental
Features
Collect near photographic-quality images
Scan the seafloor in depths up to 150 ft.
Includes GPS receiver to log coordinates
Fondriest Exclusives
Expedited repair and warranty service
Lifetime technical support
This high definition side scan sonar produces near-photographic quality images of the seabed for geological surveys, environmental studies of the seafloor, and more!
(1) 990F Side Scan Sonar
(1) 990 Top Box
(1) 20m Tow Cable
(1) Power Adapter Kit
(1) Scanline Software CD
(1) User Manual
(1) Peli Case
(1) GPS Receiver
(1) Pole Mount Bracket
Questions & Answers
Can the StarFish be used in shallow water?
In shallow waters, "ghosting" (image overlapping due to bouncing) may occur. If you have issues with this, Tritech recommends using a larger display range, which should slow the ping rate and allow the echoes to dissipate. A slower ping rate or displaying only one side channel at a time is recommended when using the pole-mount bracket in shallow water to minimize distortion in long-range targets.
How well does the StarFish Sonar work in murky water?
The StarFish does not work well with sediment or excessive aeration (such as the prop-wash produced by a boat propeller).
What can interfere with the Sonar?
High current electrical devices connected to the same power source as the sonar can interfere with the imagery. Underwater, interferences include: extraneous acoustic noises, turbidity, and prop-wash.
What beam width does the 990F Starfish use?
This system offers high resolution side scan sonar with a high frequency 1 MHz CHIRP and a very narrow (0.3 degree) horizontal beam width.
How do I display the data?
The Starfish is intended as a plug-and-play system. The module connects directly to a laptop or field computer via a USB port. The necessary software and cable is included in the rental. The software displays the sonar images in real-time and users can record the scan for playback later. The file can then be viewed again using the included ScanLine Software.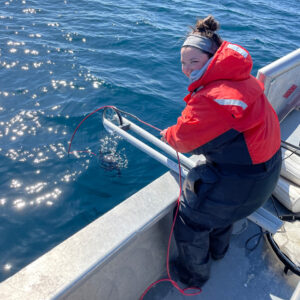 From crystal clear alpine lakes to muddy rivers and boggy swamps, water transparency is an easily observable water quality parameter to anyone who takes a few moments to peer into the (sometimes) murky depths. Water transparency varies dramatically based on the location of bodies of water among different watershed environments, but it can also change quickly due to a variety of internal and external factors. 
 
 At Miami University (OH), the Global Change Limnology Lab explores the many ways that water transparency impacts aquatic ecosystems. Operational for nearly 20 years, the lab trains undergraduate and graduate students and has conducted work from the midwest Great Lakes to Alaska, South America and New Zealand. 
 
 The Global Change Limnology Lab, headed by Dr.
Read More