Trimble Recon Stylus Pen Lanyard
The stylus pen lanyard securely attaches the stylus pen to the Recon Rugged Handheld Computers.
Features
High-visibility yellow
Velcro clasp for safety
Keeps track of small stylus pen
Usually ships in 3-5 days
Image
Part#
Product Description
Price
Stock
Order
ACCAA-804
Recon stylus pen lanyard

Usually ships in 3-5 days
The Recon Stylus Lanyard keeps the stylus pen close at hand by attaching it to a bright yellow lanyard. The lanyard features a velcro clasp, which is an important safety feature for anyone that works in industrial environments with high-speed machinery.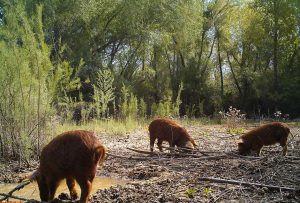 When pigs get out of their pens, they can really tear up a landscape. Five million pigs in 39 states can tear up a lot of landscape. 
 
 "They're one of the top 100 invasive species in the world. Anywhere wild pigs are not natural and they show up, they do a lot of damage to other species," said Dwayne Etter, a research specialist with Michigan's Department of Natural Resources and a part of a research team that tested a new feral swine monitoring technique that uses environmental DNA. 
 
 Environmental DNA (eDNA) is genetic material organisms lose in the environment. If a pig crosses a creek or defecates in it, a researcher, in theory, should be able to pull that DNA out of the water further downstream.
Read More