Thermo Orion AQ3700 Colorimeter
The Thermo Orion AQ3700 colorimeter offers a broad range of pre-programmed methods for all of your testing needs.
Features
Six wavelengths generated by long life LEDs
Easy to read graphical display
IP67 waterproof
Stock
Drop Ships From

Manufacturer
Fondriest Exclusives
Free ground shipping
Expedited repair and warranty service
Lifetime technical support
The Thermo Orion AQ3700 colorimeter is the newest addition to the colorimetry line. With over 70 preprogrammed method options, this IP67 waterproof portable meter offers liquid, powder, and tablet options. There are six wavelengths generated by the long life LEDs in the meter. This instrument has a graphical display that is easy to understand and can be used in English, Spanish, German, French, or Italian.
Incident Light Source: 6 Light Emitting Diodes (LED)
Wavelengths: 430, 530, 560, 580, 610, 660 nm
Photometric Precision: 2% full scale as measured with standard solutions
Photometric Resolution: +/-0.005 Abs
Test Methods: Pre-programmed with user prompts and feedback, user's favorite list
Autoranging: Yes
Blank Capacity: Per method
Test Reagent Formats: Powder, tablet, liquid, reagent tubes, acid digestion tubes
Datalog Points: Up to 1000, time and date stamp
New Method Upload Capability: Yes, via internal RJ45 port
Display: Backlit, graphic display
Inputs: 12 button numeric keypad, plus 3 function keys
Sample Required: 10mL
Sample Cells Accepted: 24mm samples vials (adapter for 13mm & 16mm vials)
Outputs: IRDA (adapter required)
Auto Shut Down: 20 min after last key-press, wakes to last location
Power: 4 AA batteries (approx. 3000 tests)
Regulatory and Safety: CE
Operating Temp: 5 - 40 C (30 to 90% non-condensing at 30 C)
Meter Waterproof Rating: IP67
Warranty: 2 years
(1) AQ3700 Colorimeter
(4) AA batteries
(4) 24mm vials
(1) 24mm vial adapter
(3) 16mm vials
(1) 16mm vial adapter
(1) Carrying case
(1) Stir rod and brush
(1) User guide with test methods
Questions & Answers
Does my colorimeter feature auto shutdown?
Yes, twenty minutes after last key-press the colorimeter will shut down. The meter will emit a warning beep 30 seconds before it turns off. Any key can be pressed to prevent shut down. If the instrument is working, the automatic shutdown feature is placed on hold.
What size sample is required?
A 10mL sample is required for the AQ3700 Colorimeter.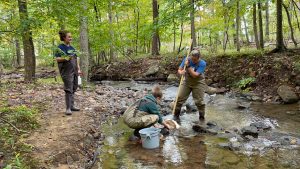 The Chesapeake Bay is enormous: the Bay and its tidal tributaries have 11,684 miles of shoreline—more than the entire U.S. west coast. It is the largest of more than 100 estuaries in the United States and the third largest in the world. The Bay itself is about 200 miles long, stretching from Havre de Grace, Maryland, to Virginia Beach, Virginia. 
 
But the Chesapeake Bay isn't just enormous--it's enormously important. The Chesapeake Bay Program reports that its watershed covers about 64,000 square miles and is home to more than 18 million people, 10 million of which live along or near the Bay's shores.
Read More