Thermo Orion AquaMate Spectrophotometers
Thermo Scientific Orion AquaMate 7100 Visible and 8100 UV-Visible Spectrophotometers are designed to meet the specific needs of water and wastewater analysis laboratories.
Features
Includes over 260 preprogrammed test methods
Operators can create their own custom methods and calibration curves
Supports Orion AQUAfast, Merck or CHEMetrics chemistries
Stock
Drop Ships From

Manufacturer
Fondriest Exclusives
Free ground shipping
Expedited repair and warranty service
Lifetime technical support
Preprogrammed Test Methods
Orion AquaMate 7100 Visible and 8100 UV-Visible Spectrophotometers include over 260 preprogrammed methods for easy and convenient measurements using Thermo Scientific Orion AQUAfast, Merck, and CHEMetrics reagents.

The preprogrammed test methods allow simple, accurate analysis of acid capacity, alkalinity, aluminum, ammonia, ammonium, antimony, AOX, arsenic, BOD, boron, bromine, cadmium, calcium, chloride, chlorine, chlorine dioxide, chromate, chromium, COD, color, copper, cyanide, cyanuric acid, DEHA, detergents, dissolved oxygen, fluoride, formaldehyde, gold, hardness, hydrazine, hydrogen peroxide, iodine, iron, lead, magnesium, manganese, mercury, molybdate, molybdenum, monochloramine, nickel, nitrate, nitrite, nitrogen, oxygen, oxygen scavengers, ozone, palladium, pH, phenol, phosphate, platinum, potassium, silica, silver, sodium, sulfate, sulfide, sulfite, surfactants, suspended solids, tin, TOC.

Volatile organic acids and zinc can also be measured using Orion AQUAfast, Merk, and CHEMetrics reagents and assorted vial sizes. The instruments allow a one point adjustment on any preprogrammed method to correct for variations in batch reagent chemistries. Preprogrammed methods can also be adapted for new chemistries or operators can create their own custom methods.

All preprogrammed methods are preloaded on the included USB memory stick to allow operators to add or remove methods as desired. Custom methods using the standard curve function can be uploaded through the USB, making it possible for most colorimetric reagents to be used. Making it possible for most colorimetric reagents to be used. Visit thermofisher.com/aquamateuvvis for the most current list of US EPA compliant reagent chemistry methods.

Performance Verification Testing
Orion AquaMate 7100 Visible and 8100 UV-Visible Spectrophotometers include performance verification tests that ensure wavelength accuracy and instrument functionality. In accordance with GLP and GMP, each verification report gives the time, date and instrument serial number. The built-in wavelength accuracy test is compatible with either the internal lamp or external calibrated standards.

Variety of Vial Holder Options
The instruments allow the ultimate flexibility in vial sizes and accommodate a wide range of round, square and rectangular vials with three vial holder options. Each vial holder turret can be easily installed and replaced in the instrument sample compartment.

Magnetically retained, easy to clean vial holders are available for 12 to 25 mm round, 10 mm square and 20 to 100 mm rectangular vials. An adjustable round vial holder is also included/available that accommodates 13 to 24 mm round vials.
(1) AquaMate Spectrophotometer
(1) Test Tube Holder for Vials and Test Tube from 12mm to 25mm OD
(1) AquaMate Water Analysis Methods Software
(1) Dust Cover
(1) External Power Supply
(1) North America Power Cable (NEMA 5-15)
(1) European Power Cable (CEE 7/7)
(1) UK Power Cable (BS 1362)
Questions & Answers
Does this spectrophotometer come with any reagents?
No, all reagents must be purchased separately. Reagents and vials are available under the accessories tab.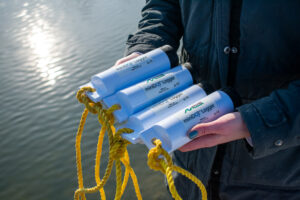 The PME miniDOT Logger is a compact data logger that measures dissolved oxygen (DO) and temperature down to 100 meters in depth. The unit can also endure low water temperatures and is durable underneath an ice layer, which is excellent for gathering essential winter water quality data that is lacking from using less robust equipment. The high depth rating and ability to withstand frigid temperatures make the PME a reliable device that is deployable in dramatically different environments, such as a monitoring well, an inland lake or an underwater cave. 
 
The logger itself features an optical DO sensor, temperature sensor, two AA lithium batteries and a micro SD memory card.
Read More