Thermo Orion Dissolved Oxygen/BOD Probe
Thermo Orion dissolved oxygen/BOD probe, waterproof BNC connector, 1m cable
Features
Compatible with most pH meters with BNC connector
Air Calibration and Automatic Temperature Compensation
Convenient pre-filled cap membrane modules
Usually ships in 3-5 days
Image
Part#
Product Description
Price
Stock
Order
970899WP
Orion dissolved oxygen/BOD probe, waterproof BNC connector, 1m cable

Usually ships in 3-5 days
970899WP
Orion dissolved oxygen/BOD probe, waterproof BNC connector, 1m cable
Usually ships in 3-5 days
Image
Part#
Product Description
Price
Stock
Order
970801
Orion pre-filled cap membrane module

Usually ships in 3-5 days

970803
Duracell 10L14 batteries, 2 ea.

Usually ships in 3-5 days
970801
Orion pre-filled cap membrane module
Usually ships in 3-5 days
970803
Duracell 10L14 batteries, 2 ea.
Usually ships in 3-5 days
The Thermo Orion Dissolved Oxygen BOD Probe greatly simplifies the routine measurement of dissolved oxygen, particularly biochemical oxygen demand (BOD). The polarographic electrode allows dissolved oxygen concentration to be read directly in parts per million on any pH meter, eliminating the need for a dedicated readout meter.

When used with your standard pH meter, the Orion 970899WP Oxygen electrode provides a convenient interface for measuring biochemical oxygen demand (BOD). Built-in circuits convert the output to a signal that can be read by most pH meters. Standardization is fast and easy using water-saturated air or a chemical standard. An overflow funnel for use in BOD bottles allows measurements to be made in the same bottle before and after incubation.

Maintenance is easy with the pre-assembled membrane/electrolyte module. There are no membranes to cut or solution to pour. Each Orion 970899WP is packaged complete with two membrane/electrolyte modules, overflow funnel with built-in stirring bar, and batteries.
Electrode Type: Polarographic Gas Sensing Combination
Concentration Range: 0 to 14 ppm (nominal)
Accuracy: +/-0.05 ppm or 2% of reading, whichever is greater
Response Time: 96% response in less than 30 seconds between oxygen-free and air-saturated water at 22 C
Oxygen Consumption: 0.1 mg/hr
Battery Life: One year based on 4 hours/day operation
Temperature Range: 0 to 45 C
Membrane Caps: Pre-Filled Membrane Cap (970801)
Temperature Sensor: Dual, thermally separated
Application: Lab
(1) Dissolved oxygen/BOD probe
(2) Pre-filled cap membrane modules
(1) Overflow funnel with built-in stirring bar
(1) Set of batteries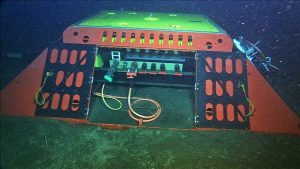 Engineers and scientists that specialize in aquatic measuring practices always meet extra costs on the path to deployment. Maybe it is the corrosive nature of the saltwater, or the unbearable pressure tools must be equipped to handle while lying on the ocean floor. 
 
For anyone interested in hooking up with the MARS (Monterey Accelerated Research System) Observatory , which rests dozens of miles off the California coastline, the costs extend further. They get so high that only well-funded universities and governmental agencies can afford to connect with the underwater power and data hub. 
 
Hoping to lower that cost, engineers with the Monterey Bay Aquarium Research Institute ( MBARI ) constructed a wireless device called Deep-Sea Connect.
Read More